Get the whole story at Serious Eats.
I wrote two weeks ago in this column that I'd never seen a fresh cranberry outside of the United States. But there is one place that I've seen a dried cranberry: in England, where at school, my best friend used to stave off the afternoon doldrums with a dried cranberry and white chocolate cookie. That got me thinking: the tartness of cranberry is one of the few things that can rein in that over-the-top sweetness of white chocolate. What a perfect ice cream that would make, and what an unexpected Thanksgiving dessert to scoop next to a slice of pumpkin pie.
Deemed a "superfruit," cranberries are high in antioxidants, vitamin C, dietary fiber, and manganese. Their high antioxidant levels may boost the cardiovascular and immune systems, and may even help prevent cancer; they contain a chemical that may prevent tooth decay; they may prevent kidney stones, and are beneficial against bacterial urinary tract infections and gingivitis. Frankly, I don't see how we can get along without them.
The perfect excuse to eat them in some delicious, sweet-tart holiday ice cream.
Cranberry White Chocolate Ice Cream
serves 6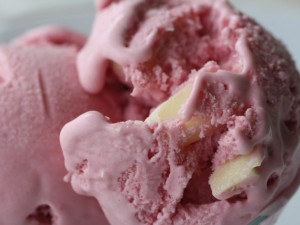 INGREDIENTS


1 12-ounce bag cranberries


1 cup granulated sugar, divided


2 cups heavy cream


1 cup whole milk


Pinch fine sea salt


5 large egg yolks


4 ounces good white chocolate, cut into chunks


PROCEDURE
The night before, remember to freeze your ice cream maker bowl.
In a medium saucepot, heat the cranberries and 1/3 cup sugar on medium-high heat until the cranberries just begin to get hot.  Then cover the pot and lower the heat to medium-low.  Cook 10 minutes, stirring often, until the berries are burst, and softened.  Transfer the berry mixture to a blender and purée.  Pass the cranberry purée through a fine mesh strainer.  The mixture should yield about 1 cup of smooth cranberry purée.  Set aside to cool.
In a large saucepot, heat together the cream, milk, 1/3 cup sugar, and pinch of salt over medium-low heat until just scalded (bubbles will form around the edges of the cream).  Meanwhile, use an electric beater to beat together the egg yolks and remaining 1/3 cup sugar, until the mixture is pale and thick.
Once the cream mixture is hot, pour about 1/3 of it into the egg yolks mixture and whisk quickly to temper the egg yolks.  Pour the mixture back into the pot with the rest of the cream, and cook over low heat.  Use a wooden spoon to constantly stir the custard until it is thick enough to coat the back of the wooden spoon: at about 170°F.  Pass the custard through a fine mesh sieve and into a large bowl.  Whisk in the cranberry mixture.  Cover the cranberry custard, and chill in the refrigerator for 2 hours.
Turn on your ice cream maker, and pour in the cranberry custard.  Freeze according to the manufacturer's directions.  Just before the ice cream is completely churned, add in the white chocolate chunks.  Transfer to a bowl or Tupperware with a lid, and freeze for at least 4 hours.  Let stand at room temperature 10 minutes before scooping and serving.
print this recipe