Get the whole story at The Huffington Post.
Food, to me, is punctuation. Think of how dull life would be if you didn't have three meals a day by which to mark its progress. Just one run-on sentence without any meaning whatsoever. I always think to myself, I can go to the dry cleaners after lunch (comma) and run by the bookstore before dinner (colon). But, if every day is a sentence, week a paragraph, year a chapter, and lifetime a novel, then there is only one period at the end of my day, one way to mark it is truly over, and done. The late night snack.
When I am virtuous, I can replace the late night bite with a cup of tea. But I am notorious for finishing off an especially late or eventful evening with none other than: the quesadilla. Whether it's a true affair, like the one in this recipe, or some shredded cheddar and salsa thrown into a tortilla and microwaved until oozing, it is actually more of an exclamation point, than a period, at the end of my day. I honestly believe, dieters advice to the contrary, that having the kind of day, or night, that finds you home, famished, at 1 AM means you deserve something to send you off to sleep satisfied.
The cheese I am most likely to have in my fridge happens to be brie, because I was raised on it and it is what I love. Interestingly, avocado, a key addition to so many quesadillas, happens to pair with it perfectly. Here, I sandwich brie and avocado in a large tortilla, and toast it. The outside of the tortilla becomes crisp, like a shell, and within, the brie melts and oozes and softens. The avocado warms, and becomes just as buttery and mild as the brie. You could stop there, but I buzz together a little salsa made of tomatoes and roasted tomatoes straight from the store, with a squirt of lemon juice. The combination is so comforting, so mild but special, that you could be proud to serve this to anyone else who wants an exclamation point before bed.
I know it may be naughty. Maybe I will get a lump of coal in my stocking. But late night is the best meal there is. Period.
Brie and Avocado Quesadillas
serves 4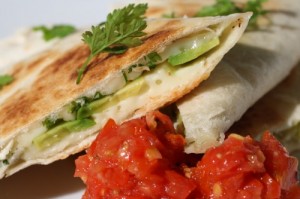 INGREDIENTS


4 extra-large 10-inch flour tortillas


12 ounces brie, thinly sliced


1 avocado, thinly sliced


Half a ¾-ounce box fresh chervil


1 cup grape tomatoes


¼ cup store-bought oven roasted tomatoes, roughly chopped


1 teaspoon oil from store-bought oven roasted tomatoes


1 tablespoon fresh lemon juice


Fine sea salt


Freshly cracked black pepper


PROCEDURE
1. Spray 1 side of each tortilla with nonstick cooking spray. Place a large braising pan over low to medium-low heat.
2. Place the sprayed side of each tortilla facedown on a work surface. Place about 1½ ounces brie on half of each tortilla. Top with ¼ the avocado and ¼ the chervil per tortilla, then season with salt and pepper. Top with the remaining brie, and fold the tortillas over their fillings so you half 4 stuffed half-moons.
3. Place 2 tortillas at a time in the pan, straight sides back-to-back in the center of the pan, round edges out toward the round edges of the pan. Use a smaller pot's lid to press down on the quesadillas as they cook, helping to melt the cheese. Keep the heat low to give the cheese a chance to melt before the tortilla gets too brown. Cook quesadillas 5 to 10 minutes per side, using a spatula to flip once halfway through the cooking process. The cheese should be melted, and the tortillas crisp and golden. Serve immediately. You could also use a panini press, to speed things up.
4. While the quesadillas are cooking, make the salsa. In a small food processor, pulse together the tomatoes and roasted tomatoes until you have the texture of a salsa. Decant to a bowl, and season with salt and pepper. Toss with the oil and lemon juice, and serve with the quesadillas.
print this recipe