Get the whole story at The Huffington Post.
There is something so perfectly American about the tuna fish sandwich that it's hard to imagine the French having anything to do with the stuff.
The tuna fish sandwich just might be the first dish I ever mastered. When I was young, I would break out the can opener, and my recipe has never deviated since: albacore in water, lemon juice, mayonnaise, salt, and pepper, on sliced oatmeal bread. While I attempted many high-fallutin' dishes way back when, this was probably my only signature dish. With my nose in the air (as it should be in a kitchen full of canned fish), I was convinced no one could make it as well as I could. And I ate it all the time, sharing scraps with the family cat.
The French tuna fish sandwich is slightly more ornate. The Pan Bagnat, or bathing bread, has all the flavors of a Niçoise salad on a bun: tuna, hard-boiled egg, lemon, olives, anchovies, lettuce, tomato, vinaigrette. When I had it, it was plain chunky tuna, lemon mayonnaise, hard boiled egg, anchovy fillets, black olives, lettuce, and tomato, sold like a deli tuna fish sandwich at a bakery for hungry lunchers.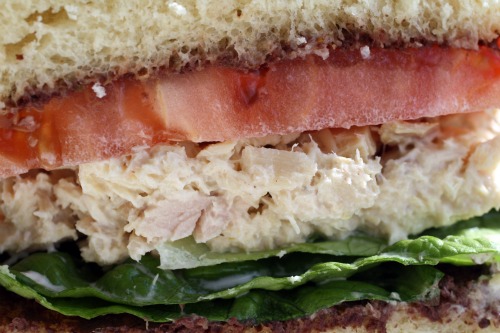 This version is a marriage of the two. I combine chunky white albacore in a cheated homemade lemon aïoli of mayonnaise, lemon, and garlic. The bun is toasted and rubbed with garlic and smothered with black olive tapenade. Lettuce and tomato finish it off. It's no harder to make than my childhood original, but it is slightly more mature and characterful. Hopefully, I've aged the same way: a little saltier, a little more complicated, but all the better for it.
Pan Bagnat Tuna Fish Sandwiches
serves 3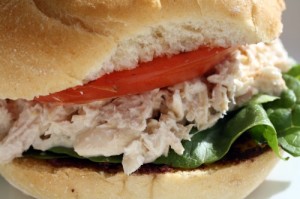 INGREDIENTS


3 Kaiser rolls


Zest and juice of 1 lemon


2½ tablespoons mayonnaise


2 cloves garlic, whole and peeled, plus 1 clove garlic, grated


2 6-ounce cans of solid white albacore tuna, drained


Fine sea salt


Freshly cracked black pepper


2 tablespoons of store-bought tapenade


3 leaves of green leaf or Romaine lettuce


3 slices of large beefsteak tomato


3 pitted French oil-cured black olives (or other black olive, optional)


3 6-inch wooden skewers (optional)


DIRECTIONS
1. Cut the 2 Kaiser rolls into thirds horizontally and discard middle section. Toast the rolls on your toaster's 'bagel' setting, so only the inside gets toasted, or under your broiler. Cut the whole cloves of garlic in half and rub the hot bread with the cut sides of the garlic. Set aside to cool.
2. In a large bowl, whisk together the 1 clove grated garlic, lemon juice, lemon zest, mayonnaise, and salt and pepper to taste. Add the tuna and use a fork to break up the tuna and combine it with the lemon aïoli mixture.
3. Slather each side of the garlicky bun with ½ tablespoon of store-bought tapenade. Cut the ribs out of the lettuce and cut each leaf into 4 pieces. Pile the lettuce onto the bottom bun, followed by the tuna salad and a slice of tomato. Season the tomato lightly with salt and top with the remaining bun. Thread an olive onto a skewer, and stab the skewer through the sandwich from top to bottom to hold the whole thing together. Serve with kettle-cooked or sweet potato chips.
print this recipe