Get the whole story at The Huffington Post.
Children are picky eaters. Some of them seem to be on a perpetual hunger strike. And while moral fortitude and tenacity are admirable at any age, parents mostly seem thrilled when their child finds one thing they are willing to eat. Although my parents might have been less than thrilled, because for me, that food was bacon cheeseburgers.
I can still remember my old bacon cheeseburger haunts: The Beach Café and Jackson Hole in the East Sixties in New York, and Joshua's up in Woodstock. And many places in between, because like an honest addict, I couldn't go very long between. I loved that rare, crumbling meatiness of the burger, mixed with the soft enveloping blanket of cheese that seemed as comforting as a down duvet on a December day, the way it stuck deliciously to the roof of my mouth. And on top of that, the crisp winter-fire smokiness of the bacon, like the smell of a nearby chimney on a cold day, just chewy on the verge of crisp. It was perfect, and I loved it. And I ate it.
As I grew older, I discovered a new comfort food, devoured past midnight at Pastis or (if I remember correctly) Florent downtown in New York, or in Paris at my corner bistro after coming home from cooking school at ten o'clock. It was my exhausted dinner: one slice of perfect country bread, Paris ham, Dijon-spiked, unctuous béchamel, and that same downy duvet of bubbling Gruyère. The Croque Monsieur. Also perfect, also loved, and also eaten.
For this Croque Monsiuer Burger, instead of bacon, I wrap each burger in one slice of jambon de Bayonne, or, more easily found, prosciutto, which is the ham with which my favorite croque monsieur in Paris is made. As I sear the burgers, that ham crisps like that nostalgic bacon, and adds a salty, crisp bite to the sandwich. Then, I cover it in the best of burger cheeses: the croque monsieur's Gruyère–nutty and runny and lovely. A simple mustardy Dijon mayonnaise, reminiscent of the Dijon béchamel, along with the requisite burger dressings of lettuce and tomato, is piled on. With a few cornichons, I have the best of both worlds.
The Croque Monsieur Burger
serves 4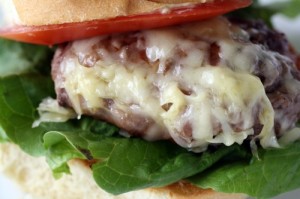 INGREDIENTS


4 rolls of your choosing that are not too crusty


1 pound 85% lean ground beef


Fine sea salt


Freshly cracked black pepper


4 slices prosciutto di Parma or jambon de Bayonne


2 ounces grated Gruyère


2 tablespoons Dijon mustard


½ teaspoon whole-grain mustard


¼ cup mayonnaise


4 leaves Green Leaf or Romaine lettuce


4 slices beefsteak tomato (from 1 large tomato)


A handful of cornichons (optional)


4 6-inch wooden skewers (optional)


PROCEDURE
1. Heat a 9-inch non-stick skillet on medium heat.
2. Slice buns horizontally and place 4 of the halves, cut-side face-down in the skillet. Toast approximately 7 minutes or until golden brown and slightly crisp. Set aside and repeat with the remaining buns. Wipe out crumbs from pan and return to medium heat.
3. Season beef with salt and pepper to taste. Form into 4 burger patties, and wrap each patty in 1 slice of prosciutto. Place each burger prosciutto-seam-side-down in the skillet. Cook burgers approximately 5 minutes on each side for medium doneness (140° to 145°F in the burger's center), using a wooden spatula to flip the burger once during cooking. In the last 3 minutes of cooking on the second side, top the burgers with the shredded Gruyère cheese, and tent loosely with aluminium foil to melt the cheese.
4. While the burgers are cooking, use a small whisk to combine the Dijon mustard, grain mustard, and mayonnaise with salt and pepper to taste in a small bowl.
5. To assemble the burgers, smear both sides of the bun with the homemade Dijonnaise. Rip each lettuce leaf in two, and place both pieces on the bottom of the bun. Top with a burger, and then a slice of tomato. Season the tomato with salt, and top with the top of the bun. Place a cornichon on a 6-inch wooden skewer, and use that to hold the burger together.
print this recipe