Get the whole story at Serious Eats.
I love New Year's Eve—the idea of starting over, starting fresh—but I hate New Year's parties. Waking up with a hangover is, for me, about the worst way to start fresh. So most years I make an extravagant but simple dinner at home with my favorite friends—Mr. English, of course, sometimes some of the girls, sometimes some of the famille—and I always make the same thing: Perrier Jouet champagne, black truffle pasta, and chocolate cake. (Black truffles, by the way, are the French ones.) Everyone goes around and shares their resolution, and there are glittery hats and the ball dropping on the TV. Could anything be better?
I chill the champagne and buy the cake, but I cook the pasta—not such a big deal when all you have to do it boil water. It feels extravagant, but it neither breaks the bank nor your back. With any luck, it is a preview of the riches to come in the new year. I hope, if you're like me and 1 a.m. is your New Year's bedtime, that this will help you toast 2011.
Thanks for another brilliant year with French in a Flash. All the best, and bon app!
Black Truffle Angel Hair
serves 4 to 6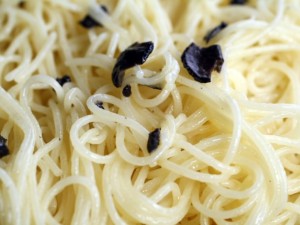 Ingredients


1 pound angel hair pasta


3 ounces black truffle butter


½ cup heavy cream


Black truffle oil (optional)


PROCEDURE


Bring a large pot of water to boil, and salt it well.  Add the pasta, and cook just until al dente.  Drain.


In the same pot, melt the butter and cream over low heat.  Add the pasta, and season with salt.  Toss gently to combine.  Top with a drizzle of truffle oil.


print this recipe