Get the whole story at Serious Eats.
This pasta is based on a creamy saffron mussel soup I learned to prepare at cooking school in Paris. It was salty from the briny liqueur the mussels leach out into the pot, luscious and sweet from the cream, and heady and intoxicating from the scent of the saffron, which always reminds me of a genie jumping from a perfume bottle. It tasted like a million dollars.
What I love about doing this as a pasta dish is how rich it feels while actually being a bit on the cheap. The pasta cost me $2, the mussels $6, organic spinach about $2, and, pro-rated, the saffron about $3. Everything else I had in my fridge, so it comes to around $3.25 a person for a seafood pasta with saffron—a small fortune at most restaurants, if they are enterprising enough to sell it in the first place. And if you have to buy the wine, so be it: something to wash this down with!
I write a lot of recipes—I just did the math and just my columns require 156 a year—so when I find one that I really, truly, madly love, I want to tell you that I really, truly, madly love it. I am making this as a side dish on Christmas day, to serve with herb- and citrus-stuffed grilled whole fish. This caters to the many pescatarians in my family, but I don't think I will miss the roast.
Have the happiest of holidays!
Creamy Saffron Pasta with Mussels and Spinach
serves 4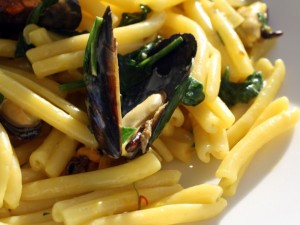 Ingredients


2 pounds mussels


1 pound casarecce pasta


4 ounces baby spinach, roughly chopped


1 tablespoon olive oil


1 tablespoon unsalted butter


1 1/2 large shallots, sliced (or 3 small shallots)


2 cloves garlic, thinly sliced


1/4 cup dry white wine


1/2 cup organic low-sodium chicken stock


3/4 teaspoon saffron


1/4 cup heavy cream


PROCEDURE


Place the mussels in a large bowl full of water and ice.  Add 1 to 2 tablespoons all-purpose flour, and let the mussels sit for 1 hour.  They will spit out any sand.  Rinse the mussels, pull of any beards your fish-seller may have overlooked, and set aside.


Bring a large pot of water to a boil, and salt it well.  Boil the pasta to al dente, adding the spinach at the last second, then drain.


Meanwhile, in a wide braising pan, heat the oil and butter on medium heat.  Add the shallots and garlic, and season with salt and pepper.  Sweat, stirring often with a wooden spoon, until shallots are soft and translucent, about 4 minutes.  Add the white wine, and simmer for 1 minute.  Add the chicken stock and saffron, cover and turn the heat to high, and bring the liquid to a boil.


Add mussels to the pot, and lower the heat to medium.  Cover, and simmer for 6 to 8 minutes, or until all mussels have opened.  Take the pan off the heat, and stir in cream.  Add in drained pasta and spinach, and return to low heat, stirring for 1 minute, until the pasta has absorbed some of the sauce and color of the saffron.  Serve immediately.


print this recipe