Get the whole story at Serious Eats.
Daube is the kind of under-the-radar French fare that doesn't have a big name. It's no boeuf bourguignon, coq au vin, or onion soup. You've probably never heard of it. But once you have Daube you quickly add it to the canon of French classics in your repertoire. It's a time-honored, wine-based French stew that I've had mostly in the southern parts of France, flavored with herbes de Provence and, in this case, orange and olives. Think of it as a boeuf bourguignon that replaces the heavy flavors of bacon and mushrooms with punchy, bright flavors of sunnier skies. It's memorable. Memorable to me, mostly, because it appeared nightly on the Provençal prix-fixe menus of every restaurant I frequented in the summer of 2009. Daube has now become something a family joke because we ate it almost every other night for a month!
This French in a Flash take on the summer Daube dinner is a bit of a French sloppy Joe-meets-cheese steak. I make a kind of Daube stew sauce from sweet onions, carrot, orange, garlic, and oil-cured black olives with rosé wine and stock. Into the simmering sauce goes high-quality bought sliced roast beef that soaks up the sauce as though it had been stewing all day. The meat gets piled into a crusty garlic-rubbed baguette or roll, and eaten greedily for dinner with a cold glass of whatever's left in the bottle of rosé. It's casual, but like Daube, pungent, punchy, unexpected, and unforgettable. An effortless, but flavorful, every-night dinner.
Daube Roast Beef Sandwiches
serves 4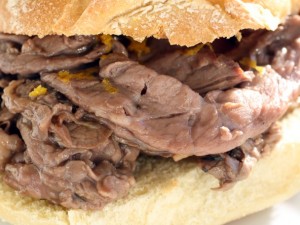 Ingredients


1 tablespoon olive oil


1 half medium yellow onion, sliced thinly on a mandoline


1 half small carrot, peeled


1 clove of garlic, whole but bruised, plus 1 large clove, whole and peeled


1/2 teaspoon dried herbes de Provence


5 French oil-cured black olives, roughly chopped


3 wide strips of orange zest, made with a vegetable peeler


1 teaspoon unbleached all-purpose flour


1/4 cup dry rosé wine (red or white would do as well)


1 cup beef stock


1/2 pound excellent quality thinly-sliced rare roast beef


1 thin baguette, or 4 French rolls, or 4 small Kaiser rolls


Procedure


In a 9 inch sauté pan, heat 1 tablespoon olive oil over medium heat.  Add onions, bruised garlic clove, and carrot, sauté for 5 minutes, or until translucent but not golden.


Add herbes de Provence, olives, orange zest, and flour, cook for 30 seconds, stirring continuously.  Add wine and allow to reduce for 30 seconds.  Add beef stock, and whisk to pick up all the bits on the bottom of the pan, and to incorporate flour.  Season with salt and pepper to taste.  Cover, and simmer on low for 20 minutes.


Separate the slices of beef, and add to the pot.  Take the pan off the heat, and stir the beef into the sauce.  Cover, and let stand for 10 minutes.  Remove the carrot, orange zest, and whole garlic cloves.  Discard.


Toast the baguette or rolls in a toaster on the 'bagel' setting or under the broiler.  Cut the remaining whole garlic clove in half, and rub the hot, crusty bread with the cut side of the garlic.  Pile the meat into the bread, and serve with chilled rosé wine.


print this recipe