Get the whole story at Serious Eats.
The endive and Roquefort salad is a popular one, but for good reason. The bitter crunch of the endive and piquant creaminess of Roquefort balances the smooth and the intense. The sweet pear and woody walnuts are the Tweedledum and Tweedledee of the salad—never far behind, and almost always found together.
I am not someone to stand in the way of whatever works. But there is a tradition in France of baking endive, usually in a gratin, where it's rolled in ham and smothered in Gruyère: now that is delicious. So I thought, why not try roasting the endive and pears, to soften the former, and intensify the latter. I pile them into a composed salad with soft, baby arugula, the requisite walnuts, and a drizzling of olive oil and balsamic vinegar. Planks of spicy Roquefort shingle the top. It's a wintry take on the perennial salad.
Roasted Endive And Pear Salad With Arugula, Walnuts, And Roquefort
serves 4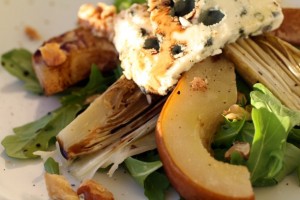 Ingredients


4 Belgian endive, quartered lengthwise


2 Bosc pears, cored and stemmed, cut into 8 pieces each


Fine sea salt


Freshly cracked black pepper


2 tablespoons olive oil, plus extra for dressing the salad, to taste


1/2 cup walnut halves


4 cups baby arugula


4 ounces Roquefort, cut in 4 slices


Balsamic vinegar, to taste


Procedure


Preheat the oven to 425 degrees F.


Arrange the endives and pears in a single layer on a parchment lined, rimmed baking sheet.  Toss with salt and pepper, and 2 tablespoons olive oil.  Roast for 30 minutes.


Arrange the walnut halves on a small, rimmed baking tray and put in the oven with the endives and pears for the last 5 minutes of cooking time.  When toasted, roughly chop the walnuts.


Allow the endives and pears to slightly cool.  Arrange on top of a bed of baby arugula.  Top with walnuts and slices of Roquefort.  Drizzle with olive oil and balsamic vinegar to taste.


print this recipe