Get the whole story at Serious Eats.
For all that I write about on this site, you might think that my grandmother and I sit around plucking escargots every time we meet for lunch. But our true tradition is a hedonistic Chinese lunch, with fortune cookie reading-aloud time for dessert. And while some of our other dishes may change depending on the week, the one thing we always order is orange peel shrimp: sweet, spicy, savory, and tart all at once, it's meaty and perfect and the kind of thing I always thought I could never in a million years recreate at home.
How wrong I was.
Thanks to the miracle of marmalade, a sweet-tart orange jam full of bitter citrus rind, I have come up with such an easy version, using stuff I always have on hand: frozen shrimp, honey, soy sauce, garlic. The sauce comes together in 3 minutes, and the shrimp in another 2. I serve the intensely flavored shrimp with plain white rice.
What makes marmalade such a perfect secret ingredient is twofold: flavor, and texture. One jar of high-quality marmalade combines bitterness and sweetness in a classic, time-tested balance that takes a lot of experience to achieve in kitchen. And the texture allows a certain stickiness in the sauce. In short, I imagine making this recipe without marmalade would require a lot more kitchen finesse than making it with it. And armed with this recipe, this week I can invite Mémé over to my house, instead of meeting her out at a restaurant. Now, if only I could master fortune cookies.
Orange Peel Shrimp
serves 4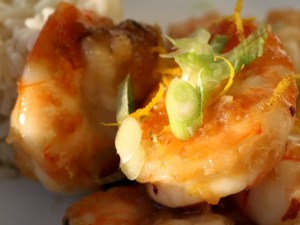 Ingredients


2 teaspoons plus 1/4 cup canola oil


2 cloves garlic, grated


2 scallions, thinly sliced on the angle, plus extra for garnish


1/2 teaspoon dried red pepper flakes


1 teaspoon orange zest


1/4 cup orange marmalade


2 teaspoons of honey (preferably orange blossom)


1/4 cup soy sauce


2 tablespoons fresh orange juice


1/2 teaspoon cornstarch, plus 6 tablespoons


Fine sea salt


2 pounds 11-15 count shrimp, peeled and deveined, dried on a paper towel


Procedure
Heat 2 teaspoons canola oil in a small skillet over medium heat.  When oil just shimmers, add garlic, scallions, red pepper flakes, and orange zest and cook for less than a minute.
Before the garlic can brown, add the marmalade, honey, and soy sauce to the skillet.  Allow to bubble for 1 minutes.
Meanwhile, use a small whisk to combine the fresh orange juice and 1/2 teaspoon cornstarch in a small bowl.  Add the slurry to the skillet, and whisk continuously for 1 final minute, until sauce is thick.  Set aside.
Toss the dry shrimp with the remaining cornstarch and a pinch of salt.  Heat the remaining canola oil in a wok over medium heat until it is so hot that if you put the back of a wooden spoon in the oil, bubbles come up vigourously around it.  Fry shrimp six at a time, on medium heat, for total of two minutes, until orange, curled, and slightly crisp.  Drain on paper towel.  Repeat for all 4 batches.  Add more oil if necessary.
Toss shrimp with orange sauce.  Garnish with fresh scallions and orange zest.  Serve with plain white rice.
print this recipe