Marmalade and Chocolate Ice Cream
serves 6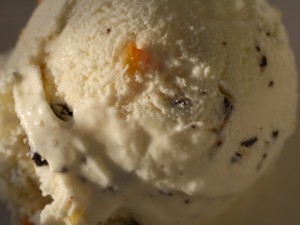 Ingredients
1 cup milk, cold
3/4 cup granulated sugar
Pinch fine sea salt
2 cups heavy cream, cold
1 tablespoon pure vanilla extract
1/2 cup orange marmalade (recommended: Bonne Maman)
1 3/4 ounces 70% cocoa dark chocolate, cut into small chunks
PROCEDURE
Chill you ice cream maker's bowl overnight.
In a large bowl, whisk together the milk, sugar, and salt with a hand mixer on high speed until the sugar is dissolved.  Add the cream and vanilla extract, and whisk to combine.
Turn on your ice cream maker, and pour in the cream mixture.  Depending on your machine, the ice cream should be ready in about 20 minutes.
Place the marmalade in a small saucepot over medium-low heat and heat just to loosen its texture.  You don't want it too hot: just pourable.
1 minute before your ice cream is due to be ready, add in the chocolate chunks.  Once the chocolate is thoroughly combined into the ice cream, steadily stream in the marmalade (don't pour it in all at once), and allow the machine to just distribute it as ribbons through the ice cream.  Stop the machine before the marmalade gets completely combined with the ice cream.
Transfer the ice cream to a large Tupperware, and freeze for 4 hours.
print this recipe