Get the whole story at The Huffington Post.
I'm not exactly a "gamer."  I don't have any game, I don't play games, I don't participate in games.  My high school sports memories are still fresh—raw—enough for me to heed them as warnings.  Like the time I scored a goal for the OTHER team in soccer, or when I was moonlighting as the line ref for a volleyball game, and couldn't remember which hand motion was "in" and which was "out".  Let just say, I had enemies on both sides.  So I've decided when it comes to games, it's best to have people over, make them some food to soothe any tensions, and watch safely from behind the pillows of the couch.
I like to make elegant food, but it also has to appeal to guys because, who am I kidding, I've never sat around with the girls to watch a game (the World Cup being the notable exception).  This sandwich has some refined elements in the greens and the croissants, but the basis is good ol' steak au poivre: tenderloin tips rolled in spicy peppercorns and sliced medium-rare.  It's piled with another traditional and spicy accompaniment: horseradish, mixed with crème fraîche for something tangier and creamier than mayo.  The result is meaty, spicy, fresh, and hearty despite its beauty.  I think it's a goal, or a homerun, or a touchdown.  Whatever.  It'll win you the game!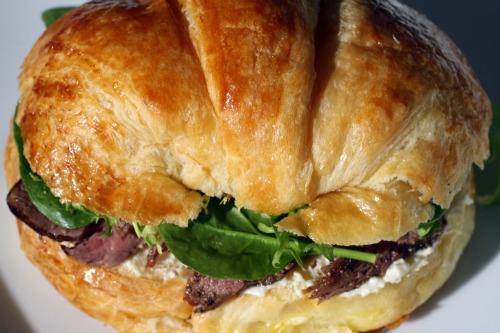 Steak and Horseradish Croissants
makes 4 big sandwiches, or 8 sandwich halves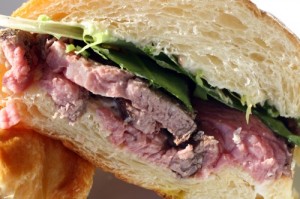 INGREDIENTS


4 croissants


¼ cup crème fraîche (see note #1)


3 teaspoons prepared white horseradish, excess liquid pressed out


Fine sea salt


1 big handful bitter greens like baby arugula or frisée


2 teaspoons multicolored peppercorns


2 ⅓-pound beef tenderloin tips (see note #2)


1 teaspoons vegetable oil


PROCEDURE


Preheat the oven to 400°F.  Cut the croissants in half horizontally.  Stir together the crème fraîche and horseradish in a small bowl, and season with salt.  Gather your bitter greens.  Grind the peppercorns up in a coffee grinder or spice grinder, and put them on a plate.


Heat a wide, heavy-bottom skillet on medium-high heat.  Rub the meat with the oil, and season with salt.  When the skillet is hot, sear the meat until golden brown on all four sides, just 1 to 2 minutes per side.  Take the pan off the heat.   Roll the meat in the ground peppercorns, crusting all the sides in pepper.


Place the meat on a small, rimmed baking sheet, and cook until the internal temperature of the steaks is 135°F (test with a meat thermometer) for medium-rare to medium—about 7 minutes.  Allow the meat to rest for 10 minutes.  Then slice thinly with a sharp knife.


Smear both sides of each croissant with some horseradish sauce.  Divide the meat between sandwiches, and top with a few bitter greens.  Slice each croissant sandwich in half.


NOTES
#1: If you don't want to use crème fraîche, or can't find it, sour cream or Greek yogurt make good substitutes.
#2: Tenderloin tips are cheaper than the symmetrical center cuts; since you're slicing it up, I say save money where you can.
print this recipe