Get the whole story at Serious Eats.
It seems to me that French food gets a really bad reputation around New Year's. And, I'll admit, where there's smoke there's fire—I do keep at least one pint of heavy cream in my fridge at all times and cannot imagine that life would be worth living without it. Or butter. Or brie. Or Roquefort. No! It's too horrible to consider.
But let's not be so provincial, when we should be being Provençal. While some of the classic comforts of northern France may be contrary to some New Year's resolutions, the food of Provence, in the south, is our own personal French diet cookbook full of vegetables, tomatoes, herbs, olive oil, and seafood.
One classic dish is Moules à la Provençal: mussels in tomato sauce with fresh garlic and herbs. I love the sweetness and variety that clams add to the dish. To make it a meal I add pasta shells (shells with shells; it's kitschy, but I love it anyway), although you could just as easily serve this with crusty, warm bread. You could also add calamari, bay scallops, and shrimp instead of carbs to bulk up the pot. This dish is healthy, bright, delicious, and sunny—the perfect way to start the new year off on the right piedwithout making any sacrifices.
Provençal Clams and Mussels over Shells
serves 4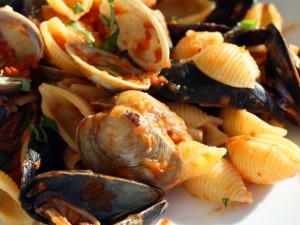 Ingredients


2 pints grape tomatoes


15 leaves fresh basil, divided


2 cloves garlic, shaved


1/2 teaspoon dried red pepper flakes


1 pound mussels


1 pound littleneck clams


1 pound pasta shells


2 tablespoons olive oil


1/4 teaspoon granulated sugar


Fine sea salt


Freshly cracked black pepper


Procedure


Place the mussels and clams in a large bowl of water and ice with 1 to 2 tablespoons all-purpose flour.  The mussels and clams will spit out any sand.  Lift the seafood out of the water, and rinse.


Bring a large pot of water to boil, and salt it well.


Pulse together the tomatoes in a food processor until almost complete pureed.  In a braising pot, add the oil and heat over low heat.  Add the garlic, and cook 1 minute.  Add the tomatoes, and 12 basil leaves, torn.  Add the sugar and red pepper flakes, and season with salt and pepper.  Bring to a boil, cover, and simmer on low for 27 minutes.  Remove the lid, and increase the heat to medium-high for 2 to 3 minutes, until some of the liquid has evaporated.


Add the pasta to the boiling water.  Add the clams to the tomato sauce, and cover.  Cook on medium heat for 5 minutes.  Add the mussels to the clams, and cover, continuing to cook over medium heat for another 5 to 8 minutes, or until all the seafood has opened.  Drain the pasta when it is al dente.


Toss the pasta with the seafood and sauce, and cook an addition 1 to 2 minutes on low so the pasta can soak up the sauce.  Drizzle with extra olive oil, and serve immediately.


print this recipe