Get the whole story at Serious Eats.
Who says watching TV is bad for you? Just last weekend while I was watching the Food Network I saw an idea that I loved: a recipe that combined strawberries and goat cheese. I use goat cheese in sweet dishes all the time, but I have never done the reverse of putting strawberries in savory. I tried it by combining two restaurant classics: crispy warm goat cheese salad and raspberry vinaigrette.
I started with the warm goat cheese salad we all know and love from every bistro in America. The fresh chèvre is coated with panko, and fried until crisp and oozing. If you want to save a couple of steps and calories though, the salad would be just as good with some goat cheese crumbled over the top.
Then, instead of raspberry vinaigrette, I concocted a strawberry vinaigrette thickened with fresh strawberries and honey. Toss it with baby spinach leaves and crunchy pine nuts, along with more sliced strawberries and you have a salad that is sweet, tangy, and full of character. (I know strawberries aren't in season, but the flavor of the vinaigrette makes up for it.)
I had the salad for lunch. It turned out that watching TV was very good for me—this time, at least.
Spinach Salad with Strawberries and Goat Cheese
serves 4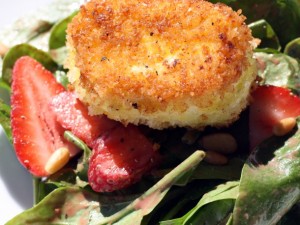 Ingredients


6 ounces fresh goat cheese log, cut into 4 1-inch medallions with a string of dental floss


1 egg, beaten


3/4 cup panko


12 strawberries, divided


2 tablespoons balsamic vinegar


4 tablespoons extra virgin olive oil


1 teaspoon honey


Kosher salt


Freshly cracked black pepper


4 ounces baby spinach salad


3 tablespoons toasted pine nuts


Vegetable oil for frying


PROCEDURE


Bread the goat cheese medallions.  Coat each round in egg, and then in panko.  Place on a parchment-lined small rimmed baking sheet, and refrigerate 30 minutes.


Make the dressing.  In a blender, combine 4 strawberries, diced, vinegar, olive oil, honey, salt, and pepper.  Purée until smooth and thickened.


Assemble the salad.  Thinly slice the remaining 8 strawberries, and toss with spinach, pine nuts, and a bit of vinaigrette (you may have some vinaigrette left over).


Fry the cheese.  Heat about 3 tablespoons vegetable oil, or enough to thickly coat the bottom of a small skillet, in a small skillet over medium heat until the oil shimmers.  Fry the cold goat cheese medallions until golden and crsip, 1 1/2 to 2 minutes on each side, using a slotted fish spatula to turn the cheese in the pan.  Place on top of the tossed salad, and serve immediately with baguette alongside.


print this recipe