Get the whole story at Serious Eats.
The last time I had braised fennel was in France at a restaurant called Pères et Filles on rue de Seine in Paris. And not to speak ill, because I love that restaurant, but I didn't love the braised fennel. It can often be too mellow to me, even with its anise aroma and soft-crisp texture. However, it's a great, easy side dish that's unusual, and I think unusual food is important—it keeps you interested.
So I decided to jazz up this vegetable side my way. My boyfriend, Mr. English, always tells me he fell in love with me because of my treatment of a certain set of roasted Brussels sprouts. Needless to say, I am of the opinion that vegetable sides are not an afterthought, but a highlight. Or, at least they should be. I quick-braise shards of fennel in white wine and stock, and top it with a simple crust of panko, chervil, fennel fronds, and olive oil. A quick stint under the broiler, and the fennel not only has that acidic twang of white wine but also a fresh anise crust. Not so drab anymore. I love to serve braised fennel with roasted pork loin or grilled or broiled fish. And take comfort in the fact that if you don't like anise, fennel is much more mild once cooked.
Braised Fennel Crunch
serves 4 to 6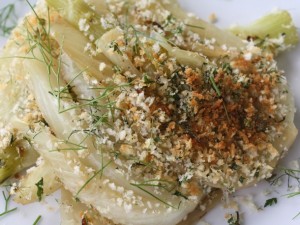 Ingredients


1/2 tablespoon olive oil, plus 2 teaspoons


1/2 tablespoon unsalted butter


2 large fennel bulbs, cut into 1/4-inch slices through the root


1/4 cup dry white wine


1/4 cup low-sodium chicken broth


Kosher salt


Freshly cracked black pepper


1/2 cup panko


1 tablespoon chopped fennel fronds


1 tablespoon chopped fresh chervil


Procedure


Preheat the broiler.


In a wide non-stick skillet, heat 1/2 tablespoon olive oil and 1/2 tablespoon butter over medium-high heat.  Once the butter has melted and just begins to foam, add the fennel slices.  Sauté, turning the slices often with a silicone spatula, until just turning golden brown, 4 to 5 minutes.  Add the wine, and allow it to reduce for 30 to 60 seconds.  Add the chicken broth, and season with salt and pepper to taste.  Reduce the heat to low, cover the pot, and simmer until the fennel is tender to the tip of a knife, about 12 to 15 minutes.  Remove the lid from the pot, and allow any excess moisture to evaporate.


In a bowl, toss together the remaining 2 teaspoons olive oil, panko, and fennel fronds and chervil.  Season with salt and pepper.


Spray a 9 1/2- by 12-inch baking dish with nonstick cooking spray or olive oil.  Place the fennel all around the bottom of the dish, and cover with the panko-herb mixture.  Place in the boiler, 5 to 6 inches below the heat source, and cook until the panko is golden-brown, 6 to 7 minutes.  Serve immediately.


print this recipe