Sweet Vanilla Iced Tea
makes a pitcher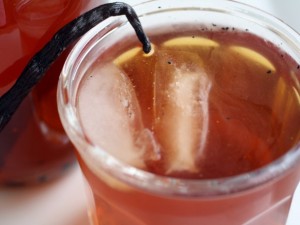 INGREDIENTS
6 1/2 cups water, divided
1/2 cup granulated sugar
1/2 vanilla bean
3 good quality black tea bags
PROCEDURE
In a small saucepot, heat 1/2 cup water and sugar over medium heat.  Slit vanilla bean down the center lengthwise with a paring knife, and use the tip of the knife to scrape the seeds from the inside of the vanilla beans.  Add seeds and whole bean to sugar mixture.  Continue to cook until the sugar has dissolved and the mixture is clear.  Set aside to cool completely.
Meanwhile, heat remaining 6 cups water in a large saucepot until just before boiling.  Shut off heat, and add tea bags.  Allow to steep until completely cool.
Remove tea bags and vanilla beans, and discard.  Mix vanilla syrup into tea, stir with a large whisk or wooden spoon.  Decant into a pitcher filled with ice.  Serve immediately.
print this recipe