Get the whole story at The Huffington Post.
So much in life seems to be in exchange for something else, starting with "you can have dessert once you eat your vegetables."  For me, eating broccoli was best products never the problem.  When it buying propecia comes to watching football, though, I tend to be reluctant.
It's the food that gets me to the Super Bowl party.  The promise of pigs in a canadian pharmacy cialis generic blanket and Doritos.  If you want to take it to the next level and offer a homemade bounty of salty, crunchy snacks on Sunday, I'm going to recommend these: Fried Cornichons.  Fried pickles are one of my all-time favorite American comfort canadian pharmacy zithromax foods.  The pickles are crispy.  The breading is crispy.  They're pucker-sour and salty.  Amazing.  Instead of sliced bread and butter or dill pickles, I use cornichons, crispy, mini, super-tart viagra online without perscription French pickles.  I bread them lightly in cornmeal, give them a quick fry, and serve them with a parsley and mustard mayonnaise.  I think they pack a bigger punch than any linebacker, but hey, that's just me talking.
Fried Cornichons with Parsley and Grain Mustard Mayonnaise
serves 4 to 6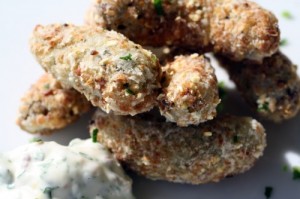 Ingredients


32 cornichons


¼ cup buttermilk


6 tablespoons cornmeal


3 tablespoon cornstarch


Fine sea salt


Freshly cracked black pepper


Canola oil for frying


¼ cup mayonnaise


2 teaspoons finely chopped flat-leaf parsley


½ teaspoon grain mustard


Procedure
Pat viagra without prescription scams the cornichons dry with a paper towel.  Put the buttermilk in a small cialis for free bowl.  Combine the cornmeal, cornstarch, salt, and pepper in another bowl.  Heat 1 inch of canola oil in a small saucepot to 375°F.
While the oil heats, dredge the cornichons.  Dip them first in the buttermilk, and then shake them, one at a time, in the cornmeal mixture until well coated.  Fry at 375°F in batches of 4 or 5 pickles at a time until crisp and golden-brown, about 2 minutes.  Drain on a paper towel, and season lightly with salt.
To dip, whisk together the mayonnaise, parsley, and grain mustard.  Serve the pickles hot, with the sauce on the side.
print this recipe