Get the whole story at Serious Eats.
Are pigs in a blanket really French?  Not really.  And are these really vol-au-vents?  Not exactly.  But since the Super Bowl isn't exactly French either, I thought we could take a few liberties.
These are really mini versions of something called Saucisson en Croûte, or sausage in a pastry crust.  For this version, I slice up all-American hot dogs (a personal favorite) and roll them up, along with a homemade sweet onion Dijon mustard, inside a blanket of puff pastry.  Sprinkle with poppy seeds, bake, and you have a flavorful and delicious, but unpretentious, little combination of French and American standbys.  While you could go out and buy a bunch of frozen pigs, I like that slightly glam touch of making your own–they look homemade and cozy.  I can choose all-beef or organic hotdogs that get so crisp around their cut edges–a definite step up from the little cocktail sausages in the frozen variety.  And that sweet onion mustard is so spicy and soft and, of course, sweet that everyone will know you made them.
I could eat these everyday.  To me, a party isn't a party without pigs in a blanket.
Hotdog Vol-au-Vents
makes 12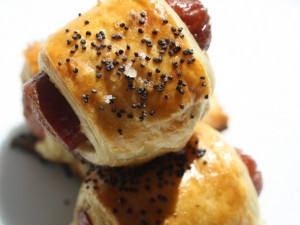 Ingredients


1 tablespoon canola oil


1 1/2 yellow onions, finely sliced on a mandoline


3/8 teaspoon granulated sugar


Kosher salt


1 tablespoon Dijon mustard


1 sheet (1/2 box) thawed frozen puff pastry


4 hotdogs, cut into thirds


1 egg, beaten with a splash of water


Poppy seeds


Fleur de sel


PROCEDURE
Preheat the oven to 400°F.  Heat the canola oil in a wide sauté pan over medium heat, and add the onions, sugar, and salt.  Sauté, stirring often, until the onions are golden and soft, 7 to 8 minutes.  While they are cooking, add 1 tablespoon of water whenever the bottom of the pot gets brown.  Drain the onions of extra oil or liquid in a paper towel.  Stir the dry onions with the mustard in a small bowl.
Cut the puff pastry in 1 1/2-inch strips.  Then cut each strip in half the short way.  Spread some of the onion-mustard mixture on each strip, and roll each strip around 1 piece of hotdog.  Place seam-side-down on a rimmed baking sheet.  Repeat with the remaining pastry, onion mixture, and hotdogs.
Use a pastry brush to lightly brush each pig in a blanket with eggwash.  Top with poppy seeds and a touch of fleur de sel.  Bake until puffed, golden, and crisp: 22 to 25 minutes.  Serve warm.
print this recipe