Get the whole story at The Huffington Post.
Somewhere in the bowels of the Natural History Museum in New York City there is a giant squid.  I'm not sure if the room still exists today as it did back in the Eighties, but as it was then, or at least as I remember it to have been then, there was a huge blue whale hanging from the ceiling, and a Mad Men-esque cocktail bar from which I always ordered a ginger ale with a maraschino cherry.  The whole thing had a sunken-Nautilus aspect: a dim blue lighting, and curiosity tanks filled with things like an old twist-on metal deep-sea diving suit.  And a giant squid.  Not as they are, I imagine, in reality, but as they are in Captain Nemo's nightmares.
Enter calamari.  I wrote last week that this week's recipe is inspired by my childhood summers in Woodstock.  It was there that I first encountered not the giant squid of Natural History, but the crispy, golden, miniature squid of an upstate Italian restaurant.  My father, my constant Natural History blue room companion, ordered me a basket, remembering, no doubt, how I stood entranced, marveling at Nemo's nemesis.  The waiter whisked it from the kitchen, over to me.  My eyes flared open.  In my little hand I clutched the now-crispy tentacles that had haunted so many oversized childhood nightmares.  The long body cut into perfect rings, to be dunked in a boiling sea of marinara sauce.  I knew I never wanted to meet a squid after Twenty Thousand Leagues Under the Sea.  But from that moment on, above the sea, with the tables turned, I have met them quite happily, and quite often.
Persillade, in French cooking, refers to a topping or combination of parsley and garlic, often packed onto shellfish or lamb or any meat really.  It has such a strong and overwhelmingly delicious and simple flavor.  Here, I very simply fry calamari and toss it with grated fresh, strong garlic, and a confetti of parsley.  I serve it, optionally, with a roasted garlic mayonnaise, but really, the combination of the hot, crispy calamari slowly, gently cooking the garlic and parsley onto each individual piece is so good, it needs nothing but an eager eater.  Of course, I am always happy to oblige.  Bon app.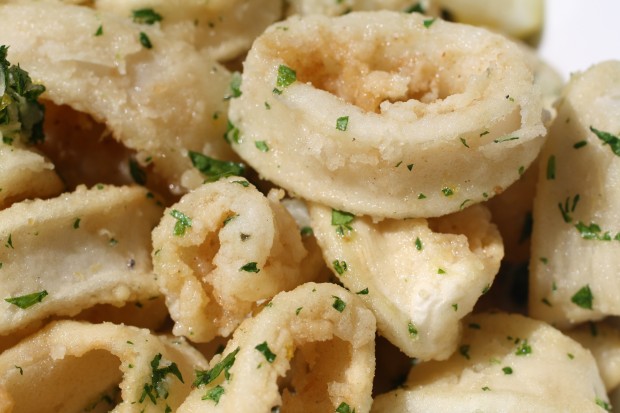 Fried Calamari Persillade
serves 2 to 4
INGREDIENTS


1 head of garlic, whole, plus 2 large cloves garlic, finely grated


¼ cup mayonnaise


Canola oil for frying


1 pound calamari tubes, sliced in ½- to ¾-inch rings


3 tablespoons all-purpose flour


3 tablespoons cornstarch


¾ teaspoon fine sea salt


2 tablespoons finely chopped flat-leaf parsley


¼ lemon, zested


PROCEDURE
Preheat the oven to 350°F.  Cut the top quarter horizontally off the head of garlic, and wrap the remainder in foil.  Roast for 1 hour, and allow to cool.  Remove foil, and squeeze out roasted garlic cloves.  Mash together with mayonnaise, and set aside.
In a cast iron skillet with high sides, heat 1 to 2 inches oil to 375 to 380°F.  Meanwhile, in a large Ziploc bag, shake the calamari rings with the flour, cornstarch, and salt to coat.  Shake off extra flour, and then fry in 3 batches until crisp and just turning golden, about 3 minutes.  Drain very quickly on paper towel, then toss hot calamari with grated garlic, parsley, and lemon zest in a large bowl.  Cut the zest lemon, and serve along with the calamari and roasted garlic mayonnaise.
print this recipe