Get the whole story at Serious Eats.
Easy does it.  Tartines, one-sided sandwiches topped with, usually, one thing, are easy.  And they do the trick.  In Paris, I have my little places where I know I can get a tartine I like: usually smoked salmon, or saucisson sec.  Everything on them, and by everything I mean, the bread and the salami or salmon, has to be perfect for the tartine to be quality.  I like that honesty, and simplicity.  It's not cooking, so much as hospitality.
These tartines are assembled on long slices of crisply toasted baguette, topped with a mash of store-bought Boursin, which is so full of the flavor of garlic and herbs that no matter how you dilute it, it is still the most flavorful thing in your kitchen, cut with ricotta, to make it spreadable.  On top, chopped grape tomatoes, sweet and crunchy, with a drizzle of olive and fleur de sel.  I love these for lunch, or even breakfast.  Satisfying, but uncomplicated.
Boursin and Tomato Mini Tartines
serves 2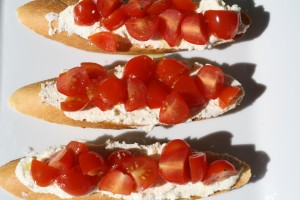 INGREDIENTS


1/4 cup Garlic and Fine Herbs Boursin


1/4 cup whole milk ricotta cheese


6 3/4-inch slices baguette, cut on a steep bias


2/3 cup grape tomatoes (about 18), quartered


2 teaspoons extra virgin olive oil


Pinch of fleur de sel


PROCEDURE
In a small bowl, mash together the Boursin and ricotta.  Set aside.
Toast the baguette slices in a toaster until just golden and slightly crisp.  Set on a rack to keep crisp, and cool.
When the bread is cool, spread with the Boursin mixture.  Toss the tomato, olive oil, and fleur de sel together, and spoon on the cheese-topped baguette slices.  Serve immediately.
print this recipe