Get the whole story at Serious Eats.
There is something so comforting about spreads–and I think it has something to do with the fact that they get spread on bread, the most comforting of all foods.  So flavorful and so distinct, they are the colorful bedspread tossed over a feathery bread, something bright over something basic but requisite.  And of course, as with a bedspread, the one you grew up with is the one that reminds you of home.  For me, I will always have tapenade and peanut butter–not together, of course.  Although, that might be interesting.
The thing about spreads is that you buy them in a jar, you keep them on hand, and you eat them only when you want to fill that little four o'clock void.  But because they are so distinct, and you do always have them onhand, eating them is so reminiscent of all the times that came before it that they become perhaps the least glamorous of your foods, but also your favorites.  Growing up, we always had black olive tapenade in the fridge.  Coming home from school, I would find the end of a ficelle, and dip it right into the jar.  Salty, and fruity in the way only olives are, the kind of paste that gets stuck in your teeth and falls off the bread.  I loved it, and I still do.  So much fun and flavor with so little effort.  I spend a lot of time thinking up recipes that will impress, and I forget what really impresses me!  And that is simple, hearty food that feels like home, but still looks and tastes beautiful.  That is this tartine–I smother toasted French sourdough with store-bought tapenade, crumble some fresh chèvre cheese on top, and broil it until the cheese softens and just begins to toast.  Toss a tender and peppery salad of microarugula, olive oil, and fleur de sel on top, and you have this incredible, sophisticated, completely easy lunch or dinner (or, if I'm eating, even breakfast!).
Tapenade and Warm Goat Cheese Tartines with Microgreens
serves 2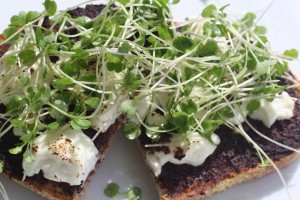 Ingredients


4 slices pain au levain, or other dense, crusty bread


8 teaspoons tapenade, divided


4 ounces fresh goat cheese


1 cup micro arugula


1 scant teaspoon extra virgin olive oil


Pinch fleur de sel


Procedure
Preheat the broiler.  Lightly toast the bread.  Spread each slice of bread with 2 teaspoons tapenade, covered the entire surface of the bread.  Crumble 1 ounce goat cheese all over each slice of bread.  Broil for 5 minutes.  Toss the micro arugula with olive oil and salt.  Cut the tartines in half, and top with micro arugula salad.
print this recipe