When Mr. English and I are in Paris, he always orders the same breakfast: omelette nature, café noir, and pain au chocolat (that's a plain omelet, black coffee, and chocolate croissant).  Apparently, it's a really funny order because my step-father gets no end of joy for making fun of him for eating it.  Whatever.  It's our thing, and it's one of the few things Mr. English has completely mastered in French.  It's a rainy day in Paris today, but that won't get in the way with our routine.  For when we get home, I have a little two-ingredient substitute.  I just roll really good chocolate into puff pastry, and bake it.  It's not quite a Paris pain au chocolat, but fresh from the oven, it's a pretty good way to start the day.
Two-Ingredient Pain au Chocolat
makes 4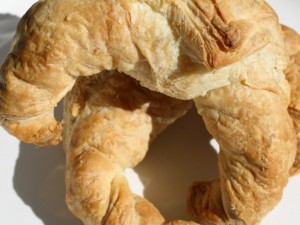 Ingredients


1 sheet frozen puff pastry, thawed but cold


2 ounces dark chocolate (recommended: Green & Black's 70% cocoa)


Procedure
The night before, move the puff pastry from the freezer to the fridge.
A half hour before you want to serve breakfast, preheat the oven to 400 degrees F.
Unfold the sheet of puff pastry, and cut two diagonal lines from corner to corner to make 4 squares.  Line a quarter of the chocolate on the long side of each triangle, and roll up, bending int the corners like a crescent shape.  Park the croissants on a Silpat- or parchment-lined baking sheet, and bake 25 to 30 minutes, until puffed and golden.  Serve now!
print this recipe