Waiting to start this series has been like watching the ball drop on New Year's Eve.  So much anticipation.  I'm so excited about it.
For the longest time, I've been writing recipes for four.  I never want them to be too easy or too simple, because I'm afraid that readers won't think the recipes are worth it.  These are my insecurities.  But in reality, as much as I love writing recipes, I have a lot of leftovers, and a lot of weekends spent in the kitchen instead of, well, anywhere else.  Because, at my age, for better or worse, I'm not cooking for four, and I don't have a lot of time to futz around between fridge and stove.
All my friends have been asking me for recipes for years that they can make after their (I'm so proud of them!) high-powered careers for themselves and the usually only one other person in their lives: a similarly aged, equally high-powered partner.  Let's face it: we're either all working long hours or studying long hours.  Living alone or with a boyfriend or husband or otherwise beloved.  No kids yet, but that also means no maternity leave.  Equally harried, but in a different way.  We're not cooking for a "family," but that doesn't mean we don't want to cook for our families: newborn households of two, housed in first apartments amid Ikea furniture and maybe a puppy, bright-eyed, and excited to finally be "grown-ups."
I had one group of friends who would get together in Atlanta to recreate recipes from my columns.  I was so excited, but when my best friend from high school admitted, "We love doing it, but I have to give my up afternoon to find the ingredients," I was embarrassed.  Not everyone devotes themselves to memorizing which supermarkets stock endive and which stock fennel–I admit, that I myself do.  Make of that what you will!
Another, newly married, told me that she wanted to make dinner for her husband.  In a world where we girls were raised to put nothing ahead of work, work, work, there is something so poignant about a new bride scuttling home from the subway at 8 o'clock just wanting to make a simple meal for her husband, who probably picked up Chinese takeout on the way home.
When I asked them what they wanted, they all said healthy, fast, simple, at times impressive, and made from ingredients easily found between subway and apartment.  Voila.  Working Girl Dinners was born.
Writing these recipes, I remember advice I learned about writing growing up: write what you know.  Similarly, I would advise: cook what you want.  I was free of all constraints, making food that actually works in my life, and that I couldn't wait to eat.  Dinner was usually ready in less than 20 minutes, with no leftovers to worry about, very little cleanup.  What hadn't I done this sooner?
In Working Girl Dinners, I hope, no pledge, to give you recipes for two that are healthy, satisfying, easy, and quick.  No esoteric ingredients.  No crazy techniques.  Just good, solid food for the way we live.  And maybe a quick video to show you how.  I promise that anyone can cook, and just because we've gotten so far at the office, doesn't mean we can't come home to the kitchen.  There is power in doing things yourself, no matter where you do them.  And as we said growing up in my big family, and now in my little one: bon app!
We start with the easiest, most satisfying soup in the world: Tortellini Soup.  Cheesy tortellini, floating on a tomato broth.  Hearty, and good.  I used to order it guiltily at a place called Sal's in Florida.  Guiltily because I was vegetarian, but I couldn't resist it even though I knew it had chicken stock in it.  I was really living dangerously.  This is a vegetarian version, and it has three ingredients, all of which you can keep in your cabinet or freezer, so you don't even need to stop off on the way home to buy anything. And the broth is literally made from just vegetable broth and marinara sauce.  Seriously.  Who knew?  My only advice is to buy good organic broth, and excellent, tasty marinara sauce: few ingredients merit the good stuff.  And have fun with the tortellini and the toppings.  You could do meat or chicken or spinach tortellini, and top the soup with lots of Parm or chilis or herbs.  Whatever floats your boat or your tortellini.
Tortellini Soup
serves 2 to 3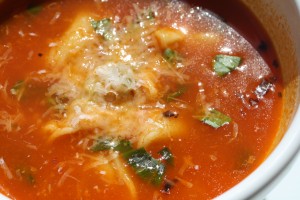 INGREDIENTS


1 32-ounce box of vegetable broth (preferably organic)


1 24-ounce jar of marinara sauce (recommended: Mario Batali, or other San Marzano tomato sauce)


1 20-ounce package (or 2 10-ounces packages) of cheese or cheese-and-spinach tortellini from the refrigerator or freezer section


Salt and pepper


TOPPINGS


Crushed red pepper flakes (optional)


Chopped fresh basil (optional)


Freshly grated Parmesan cheese (optional)


PROCEDURE
Put the vegetable stock and marinara sauce in a large pot with a lid.  Turn the heat to medium-high, and bring the mixture to a boil.  Add the tortellini, and cover the pot again.  Cook just until the tortellini float to the top of the broth, about 3 minutes.  Season the soup with salt and pepper to taste, and garnish with spicy pepper flakes, fresh basil, and/or Parmesan cheese.  Seriously, that's it.
print this recipe