Get the whole story at The Huffington Post.
There's nothing as American as apple pie.  And nothing so French as apple tart.  And that's what food is about: finding the common ground, and bringing people together.  Because we all have to eat.  And it's so much more fun when there's someone besides the television sitting across the table.
I love those strings that seem to run through the entire cloth of humanity.  Like when a word sounds the same in so many languages.  Or how the humble apple is the basis of so many comfort desserts.  We think of the apple as being so American.   But apple tarts are so iconically French.  I've never seen so much apple juice as when I was in Argentina.  And I first discovered the Pink Lady while in England.  Let's face it.  The apple isn't ours.  It's everyone's.  Because it's great.
I just got back from Europe where I had a whole-apple tarte tatin with a Sunday roast in London, and then read about a whole-apple tart in a French magazine.  Not one to be left behind on a brilliant idea, I had to come up with my own version—an Americanized version.  I poach Golden Delicious apples, stem and all, in a cinnamon simple syrup until they are tender and sweet.  Then, I wrap them in piecrust and bake until golden, flaky, and crisp.  Served à la mode with vanilla ice cream and cinnamon sugar, it's a showstopper.  The French don't usually pair apples with cinnamon, and it's optional here, but I love the French-American fusion.
No chopping up the apples.  No blind baking the crust.  Even the piecrust is store-bought.  It turns out there is something easier than pie.
Whole-Apple Pies
serves 2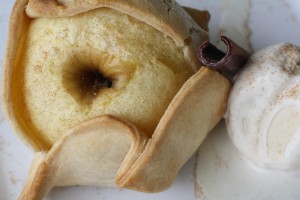 INGREDIENTS


6 cups water


1 cup granulated sugar


1 cinnamon stick


2 Golden Delicious apples, peeled


1 store-bought piecrust, cold


Cream or milk or egg wash


½ pint vanilla ice cream


Cinnamon sugar (optional)


PROCEDURE
Heat the water, sugar, and cinnamon together in a saucepot over medium heat until the sugar is dissolved, and the mixture is smooth and clear.  Drop the apples gently into the pot, and weight them down with a small plate and an upside-down pot lid.  Cook over very low heat for 30 minutes.  Remove with a slotted spoon, and cool completely.
Preheat the oven to 450°F.  Unroll the piecrust, and cut it in half along the diameter.  Pat the apples dry gently with a paper towel.  Place each apple in the center of each half of the piecrust, and fold the piecrust free-form up around the apple. Use a pastry brush to lightly coat the outside of the piecrust in a thin layer of cream or milk or egg wash.  Place the wrapped apples on a small parchment-lined rimmed baking sheet, and bake until crisp and golden brown, 30 minutes.  Serve right from the oven, with a big scoop of vanilla ice cream, and a sprinkling of cinnamon sugar.
print this recipe