I spend too much money subscribing to French magazines.  But I can't help it.  I love that they help keep me up to date with my French, sure.  But every time they show up in my mailbox, I rip the plastic off, and turn right to the recipes.  They're even in the back of the fashion magazines.  How can I describe these recipes?  Effortless, and beautiful.  And inventive.  I spend a lot of my time re-doing French classics.  But here, in these magazines, the French culinary sensibility is alive and well focusing on, often, everything but traditional French food.  I loved the article about American whoopie pies, and how they were a cross between the American cupcake and the French macaron.  Brilliant.  These magazines show how the French really let their hair down in cuisine, but as with all things, they let their hair down with elegance.
The magazines that are devoted to recipes are like a holiday for me.  I retire to my bed, and lie over the covers, reading nothing, just looking at the pictures.  Pictures of hachis parmentier with a purple potato top.  And pot de crèmes in old jam jars.  Or leaf-shaped bites of puff pastry tossed on top of a salad instead of croutons.  It's my special heaven.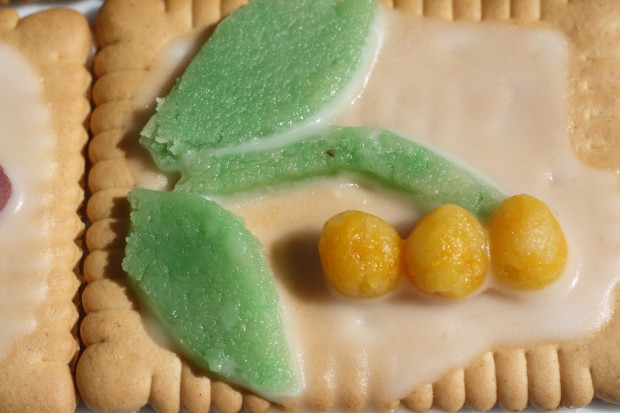 Since these magazines are hard to get your hands on, I thought it would be fun to recreate some of the most enticing recipes from my favorite French food mags.  Which, to be honest, is something I rarely do.  It was fun to finally get in the kitchen with this Gâteau Porte-Bonheur, and test a recipe.  Usually I just stare blindly at them with adulation.
The Gâteau Porte-Bonheur, in a holiday article about how to cook with kids, caught my eye not only because it was so beautiful, and dainty, and delicate.  But also because it was made with Petit Beurre cookies.  Maman RAISED me on Petit Beurre cookies.  They are single-handedly responsible for my height and stature, and my continued desperate affinity for all butter cookies.  When I was little, we used to tuck into her bed and watch Eighties classics like The Cosby Show and Wheel of Fortune nibbling on the scalloped edges of Petits Beurres, so much that I would find myself sprinkled with cookie crumb detritus, and maman would have to fetch the dustbuster before she went to sleep.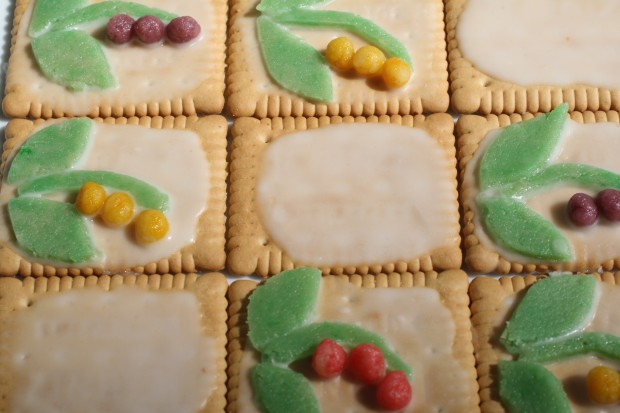 The recipe told me to top the crisp, butter-flavored biscuits with a simple lemon glaze, and decorate it with almond paste flowers.  The result, not only beautiful, and a fun project, tasted brilliant.  While I at first doubted the lemon, it counters the sweetness of the sugar and almond paste.  The result is a fresh, crisp, marzipan-y cookie that feels very high tea, but is made by getting messy with your hands.  I loved it.  I felt like I had morphed my childhood staple into something very sophisticated, and something I would share with my kids someday.
I hope you give these a try, and stay tuned for some more recipes from my favorite French Cooking Mags.
Le Gâteau Porte-Bonheur
Makes 6
From Elle à Table No. 73 (Novembre-Decembre 2010) p. 80
My translation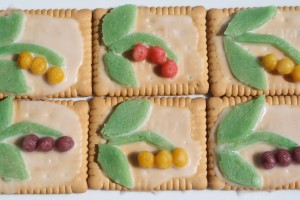 The Original
INGREDIENTS


6 petits-beurre (cookies by Lu)


1 lemon


Powdered sugar


Green almond paste


White almond paste


PROCEDURE
Mix 1 tablespoon lemon juice with 6 tablespoon powdered sugar.  Spread a little of the white creamy mixture on each cookie with the back of a spoon.  With a rolling pin dusted in powdered sugar, roll out the green almond paste and cut 12 leaves and 6 stems with a knife.  Make little balls with the white almond paste.  Put the leaves on the cookies.  Be careful to plan your moves well, as it you don't want to skid and damage the icing.  Place the white balls, pressing down so they stick, and let dry at least 1 hour.
My American Version
INGREDIENTS


6 Petit Beurre cookies


6 tablespoons powdered sugar


1 tablespoon fresh lemon juice


30 grams almond paste (24 g green, 6 for balls)


Food coloring


PROCEDURE
I found it hard to get green almond paste.  Lay out the Petit Beurres on a large cutting board.  Mix the powdered sugar with the lemon juice in a small bowl, and set aside.  Add 1 to 2 drops green food coloring to 24 grams of almond paste, and use your fingers to work the dye into the paste.  Then, choose a color for the flowers.  For pink, add 1 drop of red to the remaining 6 grams of almonds paste.  For purple, 1 drop red and 1 drop blue.  For yellow, 1 drop yellow.  And work the dye in the same way as with the green.
Cover the green paste with a little bit of plastic wrap, and roll it out.  Use a paring knife to cut stems and leaves freehand from the paste.  For the flowers, pull off little bits of pink or purple or yellow paste, and roll it to form balls between your hands.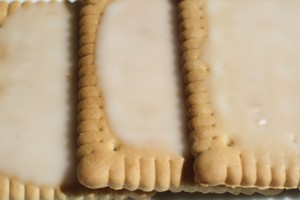 Use the back of a teaspoon to spread glaze onto Petits Beurres.  Then, arrange a stem and 2 leaves on the wet glaze, and finally three blossoms.  Allow to sit and dry on a rack for 1 hour.
An Easy Alternative
Just spread the lemon glaze on the Petits Beurres, and serve them with a pot of Earl Grey tea.  The lemon in the glaze counteracts the sweet butteriness of the cookings, and compliments the bergamot in the tea.  Perfect!
print this recipe