Get the whole story at Serious Eats.
This recipe is a combination of a fantastic salt-of-the-earth salad I had at Canton Arms in London and a recipe I saw in a French food magazine on an airplane.  A great reminder that just when you can't imagine what's for dinner, inspiration is all around us.
The salad I had at Canton Arms, a gastropub in Stockwell, was shaved raw candy cane beets and roasted red and golden beets, tossed with vinaigrette and fresh mint, and topped with cheese curd and rosemary-whole grain bread crumbs.  It was small, packed a punch, and seemed fresh out of some invisible London garden, replete with a cow who generously contributed the curd.  On the flight home, I thumbed through a French food magazine and saw salmon and beets, roasted together, red beets bleeding sweet dye on the rosy salmon.  It was all so welcoming, and wintry, but also light enough as we start to shed our cocoons near the imminent spring thaw.
This is my version.  Beets and salmon roasted together with olive oil and a bed of fresh thyme, topped with simply toasted rosemary panko.  Impressive and healthy and homey.
Crunchy Roasted Salmon and Beets
serves 4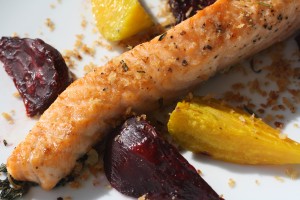 INGREDIENTS


3 large beets, red and golden


3 tablespoons panko


4 teaspoons olive oil, divided


1/2 teaspoon chopped fresh rosemary


Kosher salt


Freshly cracked black pepper


4 6-ounce boneless, skinless salmon fillets


1 small bunch of fresh thyme


PROCEDURE
Bring a pot of water to boil.  Peel the beets, and cut each beet into 8 wedges.  Salt the boiling water, and black the beets until tender to the point of a knife, about 25 minutes depending on the size of the beets.  Drain, and set aside.  Note: if cooking both golden and red beets, boil the two colors separately, or the red beets with stain the golden beets.
Preheat the broiler.  While the beets are cooking, toast the panko.  In a small nonstick sauté pan, mix together the panko, 1 teaspoon olive oil, the rosemary, and salt and pepper.   Cook over medium heat, stirring often, until the panko is golden-brown—less than 5 minutes.  Set aside in a single layer on a paper towel to cool and remain crisp.
Season each fillet of salmon with 1/2 teaspoon of olive oil and salt and pepper.  Make 4 piles of fresh thyme stems on a parchment-lined rimmed baking sheet, and place one piece of salmon on each bed of thyme, tucking the thyme under the salmon.  Toss the beets with 1 teaspoon olive oil, and salt and pepper.  Place between and alongside the salmon fillets.  Broil the salmon and beets about 6 inches from the heat source (the second rack placement from the top) until the salmon is crisp and golden on top and cooked through: 15 minutes.  If you prefer your salmon less well cooked, take it out after 10 to 12 minutes.  Top with the rosemary panko crumbs, and serve right away.
print this recipe