Get the whole story at Serious Eats.
Is this weird?  I often think about how there's not much left to be discovered.  I remember thinking in high school math class, how hard could it be to figure out that a squared plus b squared equals c squared?  If I were alive in 500 BC, would it have be called the Saretsky theorem?
So, I was really excited a few weeks ago when I discovered something that I didn't know: how beautifully ras-el-hanout pairs with shellfish.  Okay, it may not be the Pythagorean theorem, but I was pretty excited.  My jar of ras-el-hanout says it goes great with chicken, lamb, rice, and veggies.  And my grandmother never uses it on seafood.  Was this a new thing?  Had I made a kitchen discovery?
My great-grandfather owned a little pickle, olive, and spice shop in Casablanca, so I like to keep the tricks of his trade around my house: ras-el-hanout, harissa, oil-cured olives, and preserved lemons.  I feel like I'm playing alchemist with my inheritance.  And France is certainly no stranger to North African flavors.  I don't like to leave France without at least one Merguez-Frites sandwich.  When I recently dusted calamari in a ras-el-hanout-spiked flour before frying it, I knew I was on to something.  The sweetness of the seafood, be it squid or scallops, pairs so perfectly with the spices in ras-el-hanout that we think of a sweet: ginger, cloves, cinnamon.  And the savory spices, cumin, coriander, pepper, and fennel, save the dish from feeling like an aquatic dessert.  The result is this very heady, aromatic, and sumptuous dish.  The only real effort you put in is going to the supermarket, and buying a jar of ras-el-hanout.
These scallops are the perfect example of easy.  I mash up butter with ras-el-hanout and harissa, and perch it over panko-dusted scallops, accented with lemon zest and cilantro.  No, I make no apologies that this dish uses every cliche Moroccan ingredient out there.  Broil the scallops for 10 minutes, and you have a sweet, aromatic scallops in a spicy butter with bright, citrusy, crispy breadcrumbs.  I think my great-grandfather wouldn't have minded this for dinner.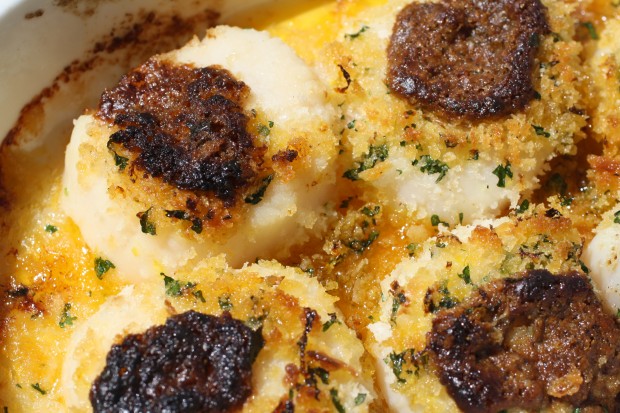 Moroccan Baked Scallops
serves 4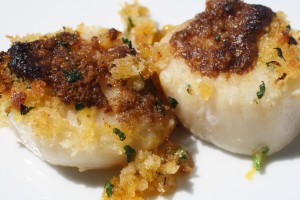 INGREDIENTS


8 U-10 sea scallops


Kosher salt


1 teaspoon lemon zest


2 teaspoons chopped fresh cilantro


1/4 cup panko breadcrumbs


4 tablespoons unsalted butter, room temperature


1 1/2 teaspoons ras-el-hanout


1/2 teaspoon harissa


PROCEDURE
Preheat the broiler.  Slice the scallops in half horizontally.  Spray two small or one large gratin dish lightly with cooking spray.  Arrange the scallops in a single layer in the dishes, and season with salt.
Mix the lemon zest, cilantro, and panko together in a small bowl.  Sprinkle over the scallops.
Mash together the butter, ras-el-hanout, and harissa in a small bowl.  Place one dollop of compound butter on each scallop.
Sit the gratin dishes on a rimmed baking sheet, and broil until the panko is crisp and the scallops are opaque, 10 minutes.
print this recipe