Get the whole story at Serious Eats.
I really appreciate anything that comes complete in a box, every part you will ever or could ever need already included.  Ikea furniture, Liberty needlepoint sets, and Itsu's bento lunches in London.  Everything I need is already accounted for, included, and sealed in the packaging.  I have no fears or worries; everything I need to assemble, stitch, or eat is right in front of me.  It's a vacation from thought and planning that I really appreciate.
The French culinary answer to the Ikea box, or Bento box, is the "en croûte."  Consider puff pastry your packing material.  Then pack everything you need for your meal–your protein, your vegetable, your sauce–inside, with the package doubling as your carb.  Foolproof.  Genius, even.
In this version, I pair the traditional salmon en croûte with rosemary, whose hearty woodsiness pairs perfectly with strident salmon.  Asparagus also works beautifully with rosemary, so that became the veg.  Crème fraîche binds everything together in a light, lemony sauce, and it is all contained in the perfectly golden and puffed pastry.  You look extremely accomplished, and all you did was wrap some ingredients in puff pastry you picked up in the freezer section.  But shh, no one needs to know that a vacation from thought and planning can apply as much to the cooker as to the eater!
Salmon en Croûte with Rosemary Asparagus
serves 4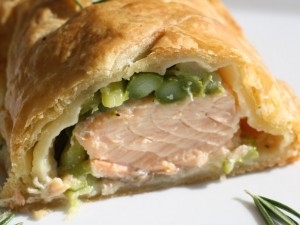 INGREDIENTS


16 medium-stalked asparagus (about 3/4 pound), trimmed and peeled


1/2 teaspoons chopped fresh rosemary


1 clove garlic, grated


2 tablespoons crème fraîche


The zest of 1/4 lemon


2 sheets (1 box) frozen puff pastry, thawed but very cold


2 1/2-pound boneless, skinless salmon fillets


PROCEDURE
Preheat the oven to 400°F.  Bring a pot of water to boil, and salt the water.  Drop the asparagus in the boiling water and cook for 2 minutes.  Transfer the asparagus to an ice bath, and cool completely.  Dry on a paper towel, then slice into thin coins on a bias.  Mix the asparagus pieces with rosemary, garlic, crème fraîche, and lemon zest in a small bowl.
Unfold both sheets of puff pastry, and lay them separately on a counter or cutting board.  Place one piece of salmon on one side of each sheet of puff pastry.  Top each salmon fillet with half the asparagus mixture.  Then, fold the pastry over the salmon, and press the pastry together to form a seal.  Trim any pastry border in excess of 1 inch, and then crimp the edge of the pastry.  Cut 2 or 3 steam vents in the top of the pastry, and place the two parcels on a parchment-lined rimmed baking sheet.  Bake until puffed and golden, about 35 minutes.  Slice each parcel in half, and serve immediately.
print this recipe