I am one of those girls who believes with all my heart that skipping breakfast and not eating until 4 in the afternoon will make me skinnier, even though I know with all my head that eating breakfast would definitely prevent that 4 o'clock meal's being a slice of Starbuck's coffee cake.  I just got back from Europe, and the combination of being with Mr. English (because being with a boy is about as fattening as the binge from breaking up with one), being in London, and being in Paris has made me feel like the world's most irresponsible eater.  I'm lethargic, dehydrated, and my face looks mottled.  As much as I love eating nothing but cheese, sugar, and beef stew, I'm a mess.  It's time to get my house in order.
So, because I'm not seeing Mr. English again until next week, I'm taking this week to refresh and replenish.  That starts with forcing myself to eat breakfast.  Normally, I'll make an exception for cinnamon rolls or a bagel, but that's not really what I'm going for right now.  I always keep a tub of Greek yogurt in the fridge for marinades and dips.  But even though its pro-digestive powers are supposed to be miraculous, and it's filling and full of calcium, I have only rarely eaten it for breakfast.  Then I had this amazing idea.  I love the idea of fruit-on-the-bottom yogurt, but they're expensive, and they kind of scare me.  Where has that fruit been?  How long has it been hiding out under all that yogurt?  And most importantly, what is it hiding from?
So, to go with my extra large tub of 2% Greek yogurt, I'm making an extra large batch of two-ingredient blueberry compote.  Fruit-on-the-top yogurt this time.  I start with a bag of frozen organic blueberries, and stew it for seven minutes with some agave, which is better for you than refined sugar.  Pour that oven plain, thick, tangy Greek yogurt, and you have this blueberry pie yogurt sundae parfait perfection, that I top with a sprinkling of puffed brown rice cereal (like brown Rice Krispies) for crunch.  It was good, and I'm full, and I'm proud of myself.  So proud that I can't wait to open up that yogurt tub again tomorrow morning.
Sweet Blueberry Greek Yogurt Sundaes
makes about 6 (all at once, or over the week)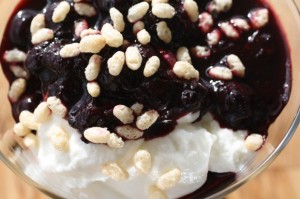 INGREDIENTS


1 1-pound bag frozen organic blueberries, thawed or frozen


2 tablespoon agave nectar


2% Greek yogurt


Puffed brown rice cereal (like brown Rice Krispies, optional)


PROCEDURE
Put the blueberries and agave in a saucepot over high heat.  Bring to a boil, lower the heat, and bubble for 7 minutes, stirring occasionally.  Chill completely, pour over a cup full of yogurt, and top with rice cereal.
print this recipe