This week my newly engaged best friend Jamie, medical student and very-beginner-chef extraordinaire, joins me in a make-up free, unscripted session in the Working Girl's kitchen.  Just to prove to you that you don't even need to know how to shut off the oven to make the perfect dinner (check out the last minute of the video and you'll see what I mean).  Just make sure you find someone to shut it off after you've eaten.
I love this idea: spoon store-bought (read: good) fresh pesto sauce onto fish before you roast it.  The garlic and basil and nuts have all the flavor already mixed in, and the olive oil roasts the fish so it gets crispy around the edges, and stays so moist.  Plus, the olive oil already tastes like garlic and basil.  It's no-brainer simple.  To go with it, I show Jamie how to do the world's easiest vegetable: sautéed spinach with garlic.  When the camera was off, she turned to me in astonishment and said, "That's so easy.  I could really do it!"  Yes!
Pesto-Roasted Chilean Sea Bass with Super-Garlicky Spinach
serves 2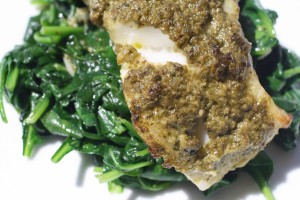 INGREDIENTS


2 6-ounce pieces of Chilean sea bass (ask for center cut, skin removed)


¼ cup store-bought fresh pesto sauce (in the refrigerated section of the supermarket)


1½ tablespoons olive oil


3 large cloves garlic, thinly sliced


8 ounces baby spinach, preferably organic


Salt & Pepper


PROCEDURE
Preheat the oven to 475°F.  Take the fish out of the fridge 15 minutes before you want to use it.  When the oven is hot, place the pieces of fish slightly apart on a small parchment-lined rimmed baking sheet.  Season with salt and pepper, and rub all over with the pesto sauce.  Bake until the fish is opaque and flaky, about 12 minutes.
Meanwhile, make the spinach.  In a wide skillet, heat the olive oil over medium heat.  Add the garlic, and cook about 30 seconds.  You don't want it to brown.  Add the spinach; it will look like too much for the pan, but it will wilt down.  Season with salt and pepper, and stir with tongs until the spinach has just wilted, about 2 minutes.
Make a bed of the garlicky spinach on a serving dish, and use a spatula to place the fish on top.  Sometimes, I pour a little of the basil oil that bakes off the fish to the spinach.  Yum.
print this recipe