It was great to be back in London last week with all my friends, and Mr. English.  My best girlfriends took me to the best Thai restaurant I've ever been to: Patara, on Beauchamp Place.  The pad Thai was just shrimp, which is how I like it.  We had beef slow cooked in coconut milk.  Prawns seared with lemongrass and chili.  And a chicken curry.  And coconut ice cream.  And glutinous rice–seriously, that's what it was called on the menu.  It was so good.
When I'm home, I order Thai delivery a lot.  Too often.  And frankly, my empty pad Thai tin always looks a little greasy.  And for one person, I can wind up spending $15.  No thank you!  We can Working Girl this issue.  This week, we are making Thai shrimp curry in 10 minutes, with 4 ingredients, and 1 pot.
It's so simple.  I poach zucchini and shrimp in a broth made from coconut milk and Thai green curry paste.  You can get coconut milk and curry paste at regular grocery stores these days, and if you have leftover curry paste, lucky you.  It keeps for a good while in the fridge, and you will be making all kinds of varieties of this curry once you see how easy it is.  Broccoli and chicken, squash and salmon.  You name it.
The coconut milk is creamy and exotic.  The curry paste is spicy and fragrant and potent.  I pour the curry over rice or mai fun noodles to soak it all up.  It's so easy, and so good, that you'll make it again tomorrow.  Promise.
Thai Green Shrimp Curry
serves 2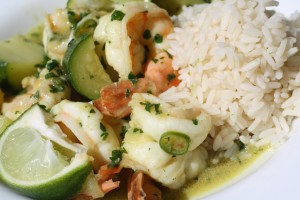 INGREDIENTS


1 13.5-ounce can coconut milk


2 tablespoons Thai green curry paste


2 small to medium zucchini or summer squash (or 1 of each), cut into chunks


1 pound 11-15 count shrimp, peeled and deveined


1 lime, quartered


Optional Toppings


1 handful cilantro leaves, roughly chopped


1 long green chili, sliced into thin rings


2 scallions, thinly sliced


PROCEDURE
In a large saucepot, combine the coconut milk and curry paste over medium heat.  Bring the mixture to a bubble, and add the zucchini and squash.  Cook 7 minutes, then add the shrimp, and cook another 4 minutes, until the shrimp are pink, opaque, and curled.  The curry is done!
Put some rice or cellophane noodles in the bottom of a bowl, and top with the curry.  To gild the lily, add lime wedges, chopped fresh cilantro, and sliced chili on top of the curry.
On the Side
Cook ½ cup parboiled rice in ¾ cup boiling water with a pinch of salt and a drizzle of canola or vegetable oil.  Bring to a boil on high heat, stir once, then cover, and cook on the lowest heat for 16 to 18 minutes.  Fluff the rice with a fork.
Or, pour boiling water to cover 3 ounces Maifun (rice sticks or thin rice noodles) in a large metal bowl, and let sit for 10 minutes.  Drain.
Tips
I always keep raw, peeled, and deveined shrimp in my freezer.  I buy them at Costco.  I defrost them quickly in a bowl of room temperature water.
print this recipe