Get the whole story at The Huffington Post.
If you loved my list of where to go in New Orleans, then you've got to make this, and bring some New Orleans to you!
Do you remember the first Charlotte's Web movie?  And the scene where Templeton the rat goes out to the carnival dump to bring back inspirational clippings for the web, and instead winds up eating himself sick on cobs of corn that he eats like a secretary at a typewriter and watermelons and hot dogs?  And he gets so fat in one night that he has to roll himself back to the farm?  That was me last time I was in New Orleans—Templeton the rat.
I ate a whole half a muffuletta, three servings of beignets, blackened fish, jambalaya, gumbo, oysters Rockfeller, turtle soup, bread pudding, pralines, and this ridiculously delicious confection called Mississippi mud—all in about two days.  And the crowning glory of my visit was the foot-long half-shrimp, half-oyster po' boy that I took down along with a quarter of a bottle of Crystal hot sauce.
I love the honesty of the po' boy: it's bread, mayo, a couple of veggies if you ask for them, and some fried seafood.  That's what I love most about American food: the honesty.  A hamburger is some good beef on a good bun, maybe with some good cheese.  There's no secret agenda there.  What I've added to the straightforward NOLA po' boy is some of the French flavors, so prevalent in the region anyway, that I love with seafood: the flavors of bouillabaisse in saffron and garlic.
I start with a crusty split baguette, and slather it with a mayo spiked with roasted sweet garlic, steeped saffron, and piment d'Espelette—that trendy Basque pepper.  Then, on with some arugula and tomatoes, and then a batch of whatever fried seafood you love.  I used shrimp, bay scallops, and clams, but you could use oysters, calamari, chunks of fish.  Whatever floats your boat.
There's nothing this girl wouldn't do for a po' boy, especially one with a little French flavor.  Luckily, I was already home when I made it, because like Templeton, I ate everything.
Bouillabaisse Po' Boys
serves 2 to 4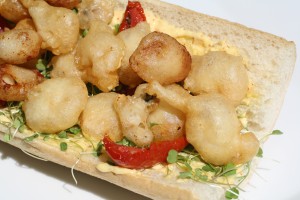 INGREDIENTS


1 cup all-purpose flour


1¼ water


2 teaspoons baking powder


Salt


Canola oil for frying


½ pound 71-90 count shrimp, peeled and deveined


½ pound bay scallops


24 middleneck clams, shucked (or ¼ pound calamari)


⅛ teaspoon saffron


1 teaspoon hot water


1 head roasted garlic


⅓ cup mayonnaise


¼ teaspoon piment d'espelette (or cayenne pepper)


1 baguette


2 handfuls baby or micro arugula


8 oven roasted tomatoes


PROCEDURE
Whisk together the flour, water, baking powder, and a pinch of salt.  Heat 2 inches of oil in a high-sided cast iron skillet to 375°.  Batter the seafood, and fry in three batches until golden brown and puffed—about 5 minutes per batch.  Drain on paper towel, and season with salt.
Make the "rouille" mayonnaise: steep the saffron in the hot water, and let come to room temperature.  Whisk together with the roasted garlic flesh, mayonnaise, and piment d'espelette.  Split the baguette almost all the way through lengthwise.  Toast lightly in a 500° oven (optional).  Smother both sides in the rouille mayo, top with arugula, tomatoes, and seafood.  Serve right away.
print this recipe