Get the whole story at the Huffington Post.
I remember the first time I went to the circus, I thought it was a spectacle.  It was all purple cotton candy and glittering acrobats and kneeling white horses.  And then the last time I went, the man sitting behind me stood up, walked down the aisle to the center of the ring, got down on one knee, and proposed to the woman right behind me.  Under the big top, with clowns grimacing behind him.  Just call him the ringmaster.  I wanted to turn around, and mouth at the woman "run!"  It was certainly a spectacle.
Nice, in the South of France, reminds me of a circus.  A carnival.  Of course, the spectacles are the dazzling ocean instead of acrobat leotards and the turreted towers that spike up from the hill instead of poles supporting a big top.  But there is something so traveling circus about it, because it just doesn't seem to belong anywhere except to itself.  It's like a traveling city that somehow plopped down here years ago, not having moved since, but still retaining all the insular strangeness of its past.  The food, certainly, comes from a land of its own.
When I was in Nice, I ate black olive ice cream and deep fried zucchini flowers.  Anchovy and onion pizza and gouged-out zucchinis stuffed with meat.  Walking through the streets of Nice, with all its street food specialties, is like entering a culinary peep show, or freak show, with nothing to do but just soak in the sights and smells and bites.  It's the greatest show on earth, because you'll never see anything you see here anywhere else ever again.
Socca is my favorite Niçoise street food: thin and crisp-edged chickpea flour pancakes.  Iconic, and worth diving off the flying trapeze for.  For this dip, I start with the lemon and chickpea flavors of socca, and merge it with hummus, for a kind of Niçoise chickpea dip, full of the garlic, tomatoes, and olive oil in everything in Nice.  Very Nice indeed.
Very "Nice" Chickpea Dip
serves 4 to 8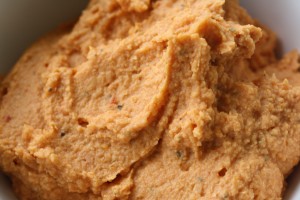 INGREDIENTS


1 can chickpeas, drained and rinsed


2 medium cloves garlic, roughly chopped


Zest and juice of ½ lemon


10 sundried tomatoes in olive oil, roughly chopped


½ teaspoon dried herbs de Provence


3 tablespoons extra virgin olive oil


3 tablespoons water


Salt and pepper to taste


PROCEDURE
Whiz everything together in the food processor until well combined.  Serve with toasted slices of whole wheat baguette.
print this recipe