Get the whole story at Serious Eats.
In my slightly undietetic mind, creamy salad dressing makes lettuce worth eating.  I once knew a woman who ate naked salad, and claimed it was because "she didn't like dressing."  She was lying!  To me, to herself, and to her itty-bitty waist.  That's mind over matter.  Her mind could run a marathon around mine.
Normally, I always go for chunky blue cheese.  But lately I've been having really wonderful creative cheesy dressings–most recently with cheddar and avocado.  I love salad with goat cheese–the traditional crispy or warm goat cheese Parisian bistro salad.  Who doesn't love that?  So I made a blue cheese dressing with fresh chèvre instead of blue cheese.  It is tangy and creamy and just ever-so-slightly tart and acidic.  And instead of a blog of creamy cheese, it enrobes every leaf of lettuce in the salad.
With the chèvre poured over torn greenleaf lettuce, topped with garden tomatoes, snipped chives, and toasted walnuts, the salad has a definite bistro feel, but it's easier to make, light but decadent, and a bit off the beaten track–like the avocado cheddar dressing I saw last week.
Green Salad with Creamy Goat Cheese Dressing
serves 4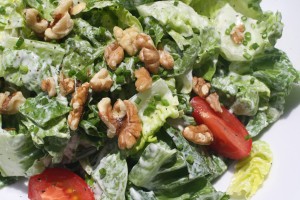 INGREDIENTS


1.5 ounces fresh goat cheese, room temperature


2 tablespoons mayonnaise


2 tablespoons half and half


1 teaspoons white wine vinegar


Kosher salt


Freshly cracked black pepper


10 cups roughly chopped greenleaf lettuce (about 2 small heads)


2 vine-ripened tomatoes, cut into wedges


4 teaspoons finely snipped chives


6 tablespoons roughly chopped toasted walnuts


PROCEDURE
In a medium bowl, whisk together the goat cheese mayonnaise, half and half, and vinegar until mostly smooth.  Season to taste with salt and a lot of black pepper.
Toss the lettuce lightly with the dressing.  Save whatever is leftover in a closed container in the refrigerator.  Top the salad with tomato wedges, chives, and walnuts.  Serve immediately.
print this recipe