Get the whole story at Serious Eats.
Is it wrong to love a shortcut?  I've been busy lately, but when it comes to writing my columns, I want to bring the best to my readers.  But then I thought, I bet they're busy too.
I have become obsessed with this one shortcut I started using about a week or so ago: using spreads or sauces that I can buy, and repurposing them as cooking agents.  Last week, I baked fish in pesto.  And this week, it's chicken in tapenade.
Think of chicken like a piece of bread.  Who doesn't love bread with butter or olive oil?  It's delicious, of course.  But, it's also simple, and frankly, it feels like a starter.  But when you slather your bread with tapenade, full of olives, anchovies, garlic, and herbs, eating becomes exciting, full of flavor, different.  It becomes a meal.
Tapenade, like pesto, is blended together with olive oil, so in essence, it's just a highly flavored cooking medium.  Smother chicken in it, and already the meat is coated with olive oil, but also crusted in olives and herbs.  Just bake it in the oven, and just like that, you've created something really different, without having to stock your pantry or, frankly, cook.  It just cooked itself.
French food is, I can assure you, at times very labor intensive.  That is the artistry of the cuisine.  But the base flavors of the country are so beloved and developed, that you can skip the labor, and just make use of the best part: how delicious it is.  Dinner in Provence tonight?  And in less time than it takes to book a flight on AirFrance.com?  I'm all for that.
Tapenade-Baked Chicken
serves 2 to 4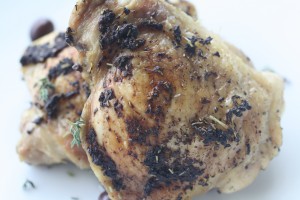 INGREDIENTS


4 bone-in, skin-on chicken thighs


Kosher salt


Freshly cracked black pepper


1 teaspoon dried herbes de Provence


4 teaspoons store-bought or homemade black olive tapenade


PROCEDURE
Preheat the oven to 450 degrees F.  Wash the chicken, and dry on paper towel.  Season with salt, pepper, and herbes de Provence.  Rub each piece of chicken, on all sides, with 1 teaspoon tapenade.  Place all 4 thighs, skin-side-up, on a foil-lined, rimmed baking sheet.  Roast until the inside of the chicken reaches a temperature of 165 degrees F, about 25 minutes.
print this recipe