My mom always made the best pesto sauce.  Growing up in New York, we would spend these long, leafy summers in Woodstock, in a house on a big mountain.  Everything about the place, the whole town, was just summer.  Buzzing bees.  Big swimming pools with decks that gave you splinters in your feet.  Black raspberry ice cream cones.  And the best farmstand ever.  I would buy warm, seedy watermelon juices there every day, and my mom would buy bunches of basil.  What is better than basil in the summer?  She would make homemade pesto sauce, full of nuts and cheese, and toss it with pillows of ricotta-stuffed ravioli.  We would eat on the deck of the wood-sided house as the hot sun sank down.  With memories like that, I'm not surprised pesto is still one of my favorite foods.
Reader and friend Jenn asked for a video on how to make pesto.  Great request.  It's one of those things that's so easy; after someone has shown you how to make it once, you'll make it a million times.  Here's my easy pesto rule-of-three: 3 cups of basil, 3 tablespoons olive oil, 3 tablespoons pine nuts, 1/3 cup grated Parmesan, and 1 clove of garlic.  Blend it in a food processor, and you have perfect pesto.
If you want a good pesto pasta, boil up some fusilli.  Toss it with the pesto, and add some of the pasta cooking water to loosen up the pesto around the pasta.  But don't stop there.  Toss some gnocchi with pesto and a pat of butter and extra Parm.  Use this pesto in last week's Working Girl Dinner, and roast fish or shrimp or scallops in pesto sauce.  Toss pesto into a pot of steaming mussels.  That's good.  Or spoon a dollop over grilled steak.  Or, one of my college favorites, mix the pesto with a touch of mayo, spoon onto whole wheat toast, and sandwich sliced tomato.
Watch to learn how easy it is to make homemade pesto!
Need a food processor to make your pesto?  Click here to buy the one I like.
Homemade Pesto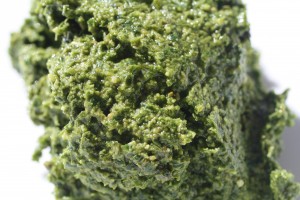 INGREDIENTS


3 tablespoons pine nuts


1 clove garlic


3 cups fresh basil leaves, washed and spun dry


3 tablespoons olive oil


1/3 cup grated Parmesan cheese


Salt & Pepper


PROCEDURE
Preheat the oven to 350 degrees F.  Scatter the nuts in a single layer on a rimmed baking sheet, and toast 5 to 10 minutes, until you can smell the nuts in the oven, and they have turned golden brown.  Let them come to room temperature before you use them!
Put the nuts, garlic, and basil in the food processor.  Whiz them up until they are finely chopped.  Add the olive oil, and season with salt and pepper.  Whiz until smooth.  Add in the cheese, and run the machine one final time to combine everything.
TIPS
To save money, use chopped walnuts instead of pine nuts, and substitute spinach for half the basil.
print this recipe