Meatballs are so romantic.  I've been in love with them ever since I saw Tramp nudge one over to Lady across the spaghetti supper.  I think I've been dreaming of re-enacting that scene, sans whiskers and wet noses (or with, who am I kidding?), since I was five (note to Mr. English).
Yes, meatballs are awesome, but they are also complicated to make and a process to perfect.  The best have three types of meat, separately cooked flavorings, and bread soaked in milk.  Italian grandmothers make meatballs on Sundays–even they don't have time the rest of the week!  I'm guessing you don't either.
I have a secret to making instantaneous meatballs: sausage.  I just buy it, and my meatballs are pretty much done.  Roll the sausage meat into balls between your hands, put them in the oven, and that's it.  They already taste like garlic and fennel and herbs and spices, and you didn't have to do anything.  Buy turkey (because it's healthy) or pork (because it's delicious), and toss them with multigrain penne, tongue-burning spicy sauce, and sweet peppers and onions.  I'll take care of the recipe.  But finding a checked tablecloth, candlelight, accordionist, and Tramp (man or dog) are all up to you.
Spicy Penne with Instantaneous Meatballs
serves 4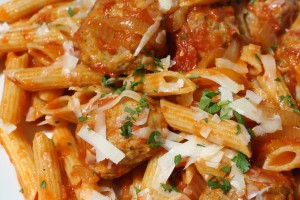 INGREDIENTS


1 pound Italian sausage (pork or turkey, not spicy)


1 tablespoon olive oil


1 orange, red, or yellow bell pepper, thinly sliced in strips


1 medium yellow onion, thinly sliced in half-moons


1 jar arrabiata sauce (recommended: Mario Batali)


1 box multigrain penne pasta (recommended: Barilla Plus)


Grated Parmesan cheese (optional!)


Freshly chopped flat-leaf parsley (optional!)


Salt & Pepper


PROCEDURE
Bring a large pot of water to boil, covered, over high heat.  Preheat the oven to 425°F.
Make the meatballs from the sausage.  Pull little chunks of meat out of the casing from one end of a link of sausage.  Roll it into a ball, and place it on a parchment-lined baking sheet.  Where I buy my sausage, I get 4 ¼-pound links, and each link yields 5 meatballs.  Repeat until all the sausage meat is used.  Discard the casings.  If using turkey sausage, spray the tops of the meatballs with cooking spray.  Bake for 20 minutes.
Meanwhile, heat 1 tablespoon olive oil in sauté pan over medium-low heat until the oil loosens up in the pan, spreads out, and starts to shimmer.  Add the peppers and onions to the pot.  It should sizzle.  Season the veggies with salt and pepper, and stir often for 15 minutes.  The veggies will the soft, and a little golden around the edges.  Add the jar of arrabiata sauce to the vegetables, and cover.
At this point, the water should be boiling, and the sausage meatballs should have been in the oven for 20 minutes.  Salt the boiling water, and add the pasta.  Stir once, and cook according to package instructions until al dente.  Immediately add the sausage meatballs carefully into the simmering sauce and veggie mixture, make sure the meatballs are submerged, and cover.  Cook on low until the pasta is done.
Drain the pasta well, and add it back to its big pot.  Pour the sauce, veggies, and meatballs over the pasta and stir gently until everything is tossed together.  Top with Parmesan, and maybe some parsley, and you're in business!
TIPS
If you don't want this dish to be really spicy, use a jar of marinara sauce instead of arrabiata sauce, and add a pinch of crushed red pepper.
If you don't want to cut up anything, just leave the veggies out!
print this recipe