I posted a simple aligot, gooey cheesy French mashed potatoes, recipe on Serious Eats a couple of weeks ago to great fanfare.  So, here's an American-ized version, with all the flavors of a baked potato.
Get the whole story at The Huffington Post.
This is one of those recipes that prove that even if we all have our differences, we can get along. There's this steak place that I love in New York, and of course, it has the requisite "potato menu." And just from reading down the list, you get a sense of how entrenched, and staunchly and particularly identifying potatoes are. Here's some of what they list: Gratin. French, of course. Parmesan Gnocchi. Italian. Loaded Baked. What else? American. Could your preferred potato be more nationally identifying than your passport? Could be.
If you're as menu-obsessed as I am, you may have guessed: that's BLT Steak.
Let's face it. The world is becoming smaller. I just found a place where I can order a blue cheese wedge in London–so I'm pretty sure that cultural culinary availability has caught up with the Internet. It's charming that at least our potatoes still speak to where we come from, but it's also time for them to join the information age. Merge a bit. Catch on to the fusion trend that seemed to hit the rest of food about a decade ago.
If BLT had Aligot on the menu, it would fall pretty close to Gratin, in the French section. Aligot is mashed potatoes whipped up with so much cheese that the potatoes actually acquire this elasticity–think about when you pull apart a grilled mozzarella sandwich. Now mash that image into some potatoes. Delish, comforting, gut busting, and perfect. Traditionally, they're made with a tomme cheese, maybe some garlic, and a bit of crème fraîche. Nothing wrong with that.
But just to have a little fun, this is a mashed potato mash up of that strictly bordered potato menu: Aligot, with a hint of American flavor. Instead of crème fraîche, I use sour cream. Easier to find, and cheaper anyway. Instead of tomme or cantal, a sharp white cheddar. The elasticity suffers a bit, but the flavor is excellent. And instead of garlic, snipped fresh springy chives. All the flavors of a baked potato, loaded into an Aligot mash. If you wanted to gild the lily, I'm not opposed to some homemade bacon bits. Just a tad gluttonous.
Finally, potatoes have dual citizenship.
Loaded Baked Potato Aligot
serves 2 to 3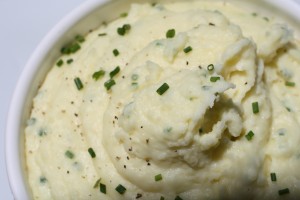 INGREDIENTS


4 large Yukon Gold potatoes


¼ cup sour cream


½ cup half and half


1 tablespoon snipped chives


1½ cups grated sharp white cheddar cheese


Salt and pepper


PROCEDURE
Peel and dice the potatoes.  Place in a large pot and cover with 2 inches cold water.  Bring to a boil over high heat.  Salt the water, and reduce heat to medium.  Cook until fork tender.  Drain.
Add the sour cream and half and half to the pot.  Pass the potatoes through a ricer into the sour cream mixture.  Beat together with a wooden spoon.  Then, beat in the cheese in handfuls, and finally the chives.  Season with salt and pepper.
print this recipe