Get the whole story at Serious Eats.
I find there's something in the sturdiness of salmon that makes it a good dance partner.  And by that I mean, it stands up both to the wet-noodle waltzers that don't lead, that don't add anything really, that let the salmon shine on its own.  And to the aggressive, step-on-your-toes partners that are so strong they overwhelm the salmon with their own domineering flavors.  Salmon still shines, even if that strong, specific flavor is slightly eclipsed by something stronger still.
My grandmother, Mémé, makes a highly renowned salmon dish universally dubbed "Moroccan Salmon."  She makes it at every family dinner, and people from far and wide demand to know her secrets.  Even Mr. English recently confessed to me: "Mémé's Moroccan Salmon is better than your Moroccan Salmon."  Well, if a relationship can't be based on trust and honesty….  My napkin quickly devolved into a tissue.
Most of the time I order my salmon raw, or maybe simply seared or grilled.  It has such a distinctive flavor and texture that it doesn't need much more than a faint char.  But Mémé's version is at the opposite end of the spectrum: pounds of paprika, olive oil, preserved lemons, parsley, sometimes olives, other times carrots, maybe bay.  It is intensely flavored, and yet the salmon still shines, and is the perfect vehicle.
I love this recipe because it has the aggressive taste of Mémé's salmon, with all the effort of the simply charred salmon.  In the south of France, as I have said so many times in this column, there is a fantastically garlicky paste called pistou.  Pistou comes in two versions, which I like to call the PG and the R.  PG for perfectly green.  And R, for red, of course.  But they are like movie ratings in that the green pistou is extremely common, made from basil, garlic, and olive oil.  The red version has tomatoes, or sun-dried tomato, or tomato paste beaten into the mix, and it adds this tannic sweetness which punches up the flavor and makes it more grown up.  Sometimes, you'll see it just twirled around strands of pasta.  But for this super-easy 15-minutes-or-less recipe, I start with sun-dried tomato pesto–very similar to rated R pistou–and coat the salmon in it.
The olive oil in the pistou acts as the cooking agent, and the salmon gets seared and crusted in this gorgeous, crisp, pungent coating.  All you have to do is rub the pistou on the salmon, and put it in the oven.  The garlic and tomatoes and basil infused the salmon and give it such a strong, heady flavor.  Mémé would be proud.  After all, if I can't beat her at her own game, why practice forgery when I can have my own signature?
Red Pistou Salmon
serves 1--multiply as many times as you want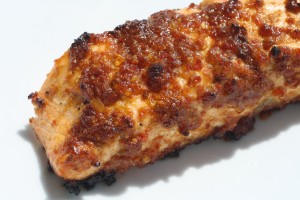 INGREDIENTS


1 6-ounce fillet boneless, skinless salmon


2 tablespoon sundried tomato pesto


PROCEDURE
Marinate the salmon in the pesto for 1 hour in the fridge.
Preheat the oven to 450 degrees F.  Place the fish on a foil-lined rimmed baking sheet, and bake for 10 minutes.
print this recipe