I'm a cookbook junkie, so when I saw Eva Longoria on Piers Morgan chatting up her guacamole, I thought, really?  But I believe that she loves to cook and eat, and any girl from Texas has got to have a better guacamole recipe than I do.  Last night, I tried out her much-touted recipe for chunky guacamole, which is, as its name would suggest, cut into chunks, rather than mashed all together.  At first I was skeptical, because I love a mushy guac, and I always use lime, where she uses lemon.  Eva, congrats.  It was amazing.  The lemon is nice and sweet, and the chilies are hot, and the whole thing is so fresh and summery.  Instead of piling it up on chips, I warmed up some corn tortillas, and made my own fat-free refried black beans (about 3 cans drained and rinsed black beans, 1/4 cup water, a good palmful each of cumin, coriander, and mild chili powder, and then a sprinkling of cinnamon, warmed up over a medium flame and slightly mashed), and piled up warm corn tortilla tacos with the black beans, some super sharp English white cheddar, and the chunk guac on top.  We were so desperate for the stuff that between the three of us, we at 6 avocados.
I confess that part of my motivation behind doing this giveaway was that I could get to make some Mexican food, which I sorely miss when I'm in London.  America is so full of great ethnic foods, because we all come from every end of the Earth.  In my house, it was always French and Moroccan.  But Eva was pretty lucky to grow up on guacamole.  To win a free copy of Eva Longoria's cookbook Eva's Kitchen, which does include this chunky guacamole recipe, leave a comment with your favorite ethnic dish from growing up, or what imported cuisine you just can't get enough of.  For me, it's a tie between Mémé's Moroccan olive stew and, of course, guacamole.  I'll choose a comment a random next Thursday!  In the meantime, I suggest you make this guacamole…
Also in the meantime, I want to give a little shout-out to Mr. English, who actually created his own recipe for the occasion, a kind of Agua Fresca.  He muddled together fresh mint leaves from the garden, sliced limes, and a simple syrup I showed him how to construct by heating together equal parts water and raw sugar.  Then, he topped it off with sparkling water.  It's perfect summer, and counteracts the heat in those chili peppers.
This giveaway closes Thursday, May 19, 2011 at midnight EST.
Eva Longoria's Chunky Guacamole with Serrano Peppers
Adapted from Eva's Kitchen by Eva Longoria, Clarkson Potter, 2011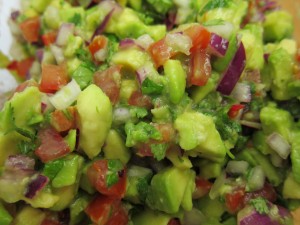 Ingredients


6 ripe avocados, cut into 1/2-inch dice


4 medium ripe tomatoes, cut into 1/2-inch dice


1 large white onion, finely chopped


1/2 bunch fresh cilantro, leaves chopped


1 serrano pepper, finely minced


Juice from 4 small lemons (about 8 tablespoons)


2 teaspoons Kosher salt or to taste


PROCEDUREIn a large bowl, place the avocadoes, tomatoes, onion, cilantro, serrano, lemon juice, and salt.  Stir gently until well combined.
Transfer to a serving bowl and serve.
NOTES
Because I am in London, I have to admit that I had to do some substitutions.  I couldn't find a serrano chili, so I used a long red unlabeled chili that they had at the supermarket.  No white onions, so I used red.  No Kosher salt, so I used Maldon.  It tasted amazing, so it's a resilient recipe.
print this recipe