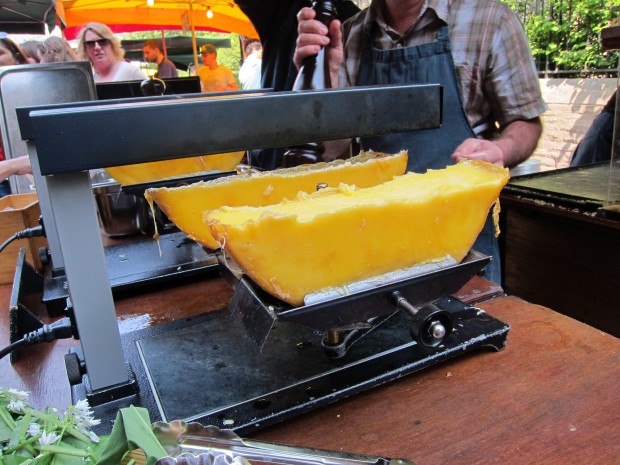 I can really relate to mice.  If I were standing in front of a mousetrap and I had to make the choice between cheese and certain gory death, or no cheese….  Well, in the presence of cheese I don't think I'd be of sound enough mind to make the right decision.
I have found my mousetrap.  Raclette.  Amazingly, I had never had it before.  But I'd heard of the famous "melted cheese" depot at Borough Market here in London.  They serve "the best" grilled cheeses made with the famous Montgomery cheddar, and raclette.  Which is raclette cheese broiled on a special machine until it bubbles and melts and goos and pools.  Then, the man scrapes the melted puddle all over a pile of smashed potatoes, served with sharp little cornichons to clean the fattiness from your mouth between bites.  If this plate of raclette was on a giant Kerrytrap, there would be no way I could resist.  I'd be toast.  Sandwiched into a delicious grilled cheese.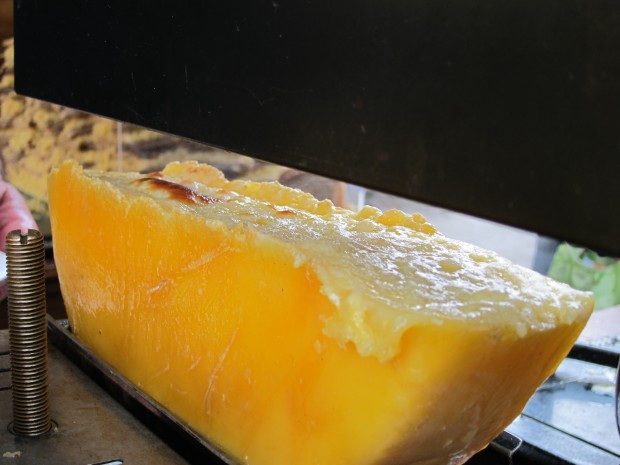 What I like about the raclette is that it's especially pungent–not overwhelmingly so, and not in that piquant way that something soft and stinky like Camembert might be.  But it's a melting cheese that still packs a punch, and smells distinctively toasty and nutty.  It's the kind of food that in the absence of a down blanket, chicken noodle soup, and a friend who loves you, will banish any woe to splitsville.
And while the whole apparatus for the raclette may seem like something of a cruel and unusual cheesy torture device, I love that it keeps raclette special.  I have to crave it, think it, want it, and then go for it.  I can't make it at home (although I intend to do a little testing with my broiler) without investing in an expensive raclette machine.  Frankly, I'd rather get on the subway, spend 5 pounds, and just enjoy the rarity, specialness, and decadence of it.  Mr. English took our little plate into the churchyard just beyond the fence to the market, and engaged in the most competitve cheese eating contest London has ever witnessed.  It's warmness, the heartiness, and the consistency, both in the sense of the melted gooey cheese and in the sense of the plate of one classic, unadulterated thing, that makes you want your fair share of raclette.
I love when something so simple, so humble, so pure, so unpretending is just so damn perfect.  It's like an effortless beauty that turns heads with no makeup.  Cheese, potatoes.  Nothing more, and nothing less.
According to the Kappacasein webpage, they are no longer trading at Borough Market, which comes as something of a shock.  Follow the link for their new location.