Now that I'm back in the UK with Mr. English, I have become deeply suspicious of American food abroad.  I had a burger a couple of nights ago–it was okay.  I won't get it into it.  But then I went to see Something Borrowed, and the sheer amount of Shake Shack in that movie sent me into an emotional tailspin of homesickness the likes of which I'd hardly thought possible.  So, I'm not about to put my sensitive condition on the line by ordering chili an English establishment that thinks it gets it.  Because, with all due love and respect, it doesn't.
As I always say, why let someone else do what you can do better yourself?  I love vegetarian chili–all the beans are more comforting in that hearty, creamy way they have than good ol' beef could ever be.  This version has kidney, black, and pinto beans, kicked up with crispy spice from poblano peppers and scallions.  In the spirit of full disclosure, I filmed the video back home in the States–if anyone knows where I can find a poblano pepper in the UK, I'm desperate!  But you can substitute with a green bell pepper and a small jalapeno.  The whole thing comes together in 15 or 20 minutes, and I serve it on top of New York-style toasted corn muffin wedges.  It's so healthy and hearty, but nearly instant at the same time.  It's just the kind of thing you can take to the couch and eat too much of.  With no guilt.
Speedy Veggie Chili
serves 2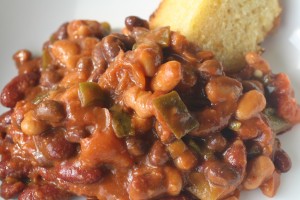 INGREDIENTS


1 tablespoon vegetable oil


1 large poblano pepper, diced


4 large scallions, sliced


1 15-ounce can pinto beans


1 15-ounce can kidney beans


1 15-ounce can black beans


2 15-ounce cans diced tomatoes


1 1-ounce packet of chili seasoning


salt


corn muffins


PROCEDURE
Sauté the veggies on medium in the oil for 3 to 4 minutes, until soft and just starting to char.  Add the tomatoes and the seasoning, and stir to combine.  Add the beans, lower the heat to low, and cover for 10 minutes.  Finish uncovered for 5 minutes.
Toast the muffin in a 450 degree oven for 5 to 7 minutes.
print this recipe