I've just got back to London last week, and I'm staying at the Mr. English family house.  The only thing his father said to me as I walked through the door with, count them, four giant suitcases was, "At least now we'll have some proper food."  As he helped me hoist my Samsonites up the stairs, I figured that was something I could take care of.
The weather here in London has been spectacular–light till late, powder-blue skies, and breezes as blustery as a gorgeous sunny day can muster.  For our first dinner out in the back garden, I did a simple charred fish with the world's easiest summer sauce, with some olive-oil smashed potatoes.  I started with whole sea bass that I found at the supermarket, still on the bone.  I rubbed it down with just a touch of olive oil, and sat it under the broiler until the outside was charred and the inside tender and flaky.  To pour over it, a fresh sauce of mint and chives and parsley from the garden, with slivers of fresh hot chili, and a glug or two of olive oil.  If you could smell the mix of all those fresh chopped herbs, you would be halfway to the supermarket by now.  As soon as those fresh herbs hit the hot fish, and the olive oil starts to cascade in little rivers into all the nooks and crannies, it just smelled like England to me–gardens, and seasides.  A smart thing to do this time of year would be to roast some asparagus alongside the fish as it cooks, just until they're tender.
If you need a hit with the in-laws, give this a go.  It was so easy, super fresh and seasonal, and there was nothing left in the end.  Mr. English is still raving, so I hope (fingers crossed), that I made a good impression.
No Recipe Recipe: Charred Fish with Spicy Fresh Raw Herb Sauce
serves 2 to 3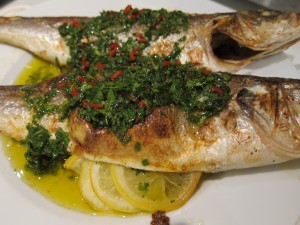 INGREDIENTS


2 smallish whole sea bass, gills, guts, scales, and fins removed (have your fishmonger take care of that)


Olive oil


Salt and pepper


1 lemon


1 handful fresh mint


1 handful fresh flat-leaf parsley


10 chives


1 small chili


PROCEDURE
Get your broiler nice and hot.  Rub the fish down with a little bit of olive oil, inside and out, and season inside and out with salt and pepper.  Slice half the lemon thinly, and stuff the cavity of each fish with some lemon slices.  Park the fish on a foil-lined baking sheet, and broil until the outside of the fish is charred and the inside is flaky and opaque--about 7 to 9 minutes per side, depending on how big your fish is.  You'll want to place your oven rack on the second position down from the broiler, not just under it or the fish will burn.
Meanwhile, chop the herbs and chili nice and fine.  Mix them together in a bowl or mug with the juice of the remaining half a lemon, about 2 to 3 tablespoons olive oil, and salt and pepper.  As soon as the fish comes out of the oven, put them on a plate, and pour all the sauce over them.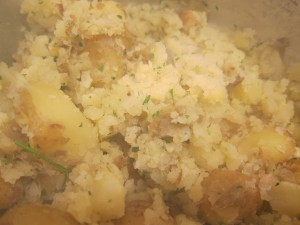 ON THE SIDE
Empty a big bag of new potatoes in a large pot, and cover with about an inch of water.  Bring to a boil, and cook until the potatoes are fork-tender.  Drain, and put the potatoes back in the pot.  Add salt and maybe some remaining parsley and a few spoonfuls of olive oil (to taste), and light crush the potatoes with a masher or fork.  They will be drier than mashed potatoes--like potato crumbles.
print this recipe