One of my favorite magazines, French Glamour, is holding a recipe contest.  The winner gets her recipe on the menu of a famous Paris restaurant for one day, and gets the recipe printed in the magazine!  I've entered my Noix de Saint-Jacques Gratinées à la Persillade, or Garlic and Parsley Gratin-ed Scallops.  They're extremely easy, and they taste so good.  I mean, scallops, butter, garlic, parsley, and panko.  How could that not be good?
How to Vote
Follow this link: http://www.glamourparis.com/concours-recettes/recettes/91
Click "Je Vote!"  A box will pop up.  Enter your email address.
Check your email.  Open the email from Glamour.com, and click on the 2nd link in the email.
Thank you!
Here's the recipe in English for you!
Noix de Saint-Jacques Gratinées à la Persillade
4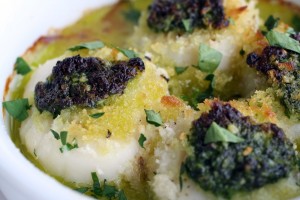 INGREDIENTS


4 large cloves garlic


¼ cup chopped flat-leaf parsley


1 stick unsalted butter, room temperature


8 U-10 sea scallops, halved horizontally


Fine sea salt


¼ cup panko


PROCEDURE
Preheat the broiler.
In a mini food processor, whiz the garlic to smithereens.  Add the parsley, whizzing to break it up even more.  Then add the butter, and whiz to incorporate.
Lightly spray 4 individual gratin dishes with cooking spray.  Lay 4 scallop halves in a single layer in each dish.  Season with salt.  Place the 4 dishes on a rimmed baking sheet.  Top with one quarter of the butter mixture per dish, then top with one quarter of the panko.  Broil 10 to 12 minutes, until the scallops are opaque and the panko is golden.  Serve immediately with warm, crusty bread.
print this recipe