I love to cook.  You know that.  But there are so many things I have to cook, for columns, that I really relish opportunities like I had this morning.  It was early on a lazy Sunday, and I got to putter around the supermarket, and just see what looked good, what I felt like, what made me hungry.  As the sky was blue and the trees billowy and grassy and leafy; I wanted something light, fresh, crisp.  The cherry tomatoes were ruddy and blushing, like fat little children's cheeks bursting with excitement.  I found a crusty loaf of peasant bread, some sweet basil and shallots, and just made a big pile of bruschetta.
I cut up the tomatoes and set them to marinate with coarse salt and cracked black pepper, scissored up basil and razor-thin rings of sweet-sharp shallots, glugs of olive oil and just a soupcon of balsamic vinegar.  It was fresh and savory and sweet piled on the thick slabs of crispy toasted bread, and all of the ingredients are just beginning to be delicious again.  There is nothing more humble or satisfying than good bread and vegetables (although, I know technically, tomatoes are a fruit).  But there's also something tremendously satisfying about being selfish in the kitchen and feeding that thing inside of you that wants what it wants.  Luckily, everyone else loved it too.
Spontaneous Sunday Bruschetta
This recipe is very not about the measurements. Make as much as you need, using the following ingredients as you like them. Serves about 4.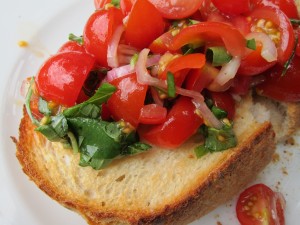 INGREDIENTS


4 1-inch thick slices of crusty round country bread


2 to 3 boxes cherry tomatoes, quartered


1 big handful fresh basil leaves, slivered


1 shallot, very thinly sliced


Salt and pepper


A dash of balsamic vinegar


2 to 3 tablespoons good olive oil


PROCEDURE
Preheat the oven to 500 degrees F.  Place the bread on a baking sheet, and toast until golden brown on top.  Flip over, and toast on the other side.
In the meantime, toss the tomatoes with all the other ingredients in a large bowl.  I serve the toast warm from the oven, with the tomatoes in a big bowl to pile on top.  To gild the lily, serve some crumbled goat cheese alongside to sprinkle on top to add some creamy tang.
print this recipe