I know we are few and far between, but I'm one of those insane individuals who thinks the crust is the best part of the pizza.  I know I risk pizza-palate revenge from the rest of the pie, but I can't tell a lie.  It's the truth.  I've even eyed some of those other people's gnawed off crusts that they leave forlorn in the pizza box.  It's taken a lot of willpower to resist those scraps.
So, when I was working on this mini pissaladière recipe for a new project, I got to thinking about those pizza crust scraps.  I was cutting out little discs of dough, and I had all this delicious half-white, half-wheat pizza dough left on the counter, that I would stare at, and then throw out.  And then I thought, who do I think I am?  No, I didn't rescue the dough from the trash, but the next time, I cut it up into chunks, and through them in a scorching oven, just after the pissaladières were done.  After about the time it takes to warm up a New York slice, I had these homemade, Little Italy garlic buttons that I tossed with grated garlic, olive oil, coarse salt, and parsley, because I was being fancy.  They reeked to high heaven of delicious, sweet garlic, that just cooked onto the rolls with the heat they still had on them from the oven.  Is it wrong to say they eclipsed the main event?  No!  Because the crust is always the best part.  Just look at that crispy golden crust on the outside, and the sheen of the olive oil.  Who could throw this stuff out?
Next time you have some pizza dough in the house (who am I kidding–go out and buy some), here's what you have to do with it:
Scrap Garlic Buttons
just me!? okay, it depends on how much dough you use.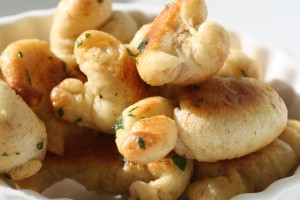 Procedure
Take however much pizza dough you have, be it scraps, or a whole-pound ball.  Cut or tear it into 1 to 1 1/2-inch chunks, and roll them around a little in your hands to tuck in any edges.  Put them well-spaced in a single layer on a baking sheet, and bake at 500 degrees (make sure you preheated!) just until they're nice and golden and crisp on the outside.  Like pizza crust.  Then, grate some garlic with a Microplane onto the hot dough buttons, and toss with olive oil, coarse salt, and if you want, some chopped parsley--all to taste.  The heat from the dough will cook the garlic, and your house will smell like a scene from Goodfellas almost immediately.
Tip
You can buy pizza dough at any pizzeria or supermarket.  In the supermarket, you may have to look in the refrigerated section, the freezer section, or the bakery section.
print this recipe