There is no denying that there's something about pasta after a long day.  It's done in ten minutes, and it fills you up in more ways than one.  There's something undeniably comforting a too-big bowl of something warm and simple.  This is my healthed-up version of the Italian classic cacio e pepe, which I believe translates to Pecorino and black pepper.  Although, really, what's in a name?  As long as it tastes good.
The traditional version is made with bavette, kind of like linguine, tossed with Pecorino cheese, and butter, and lots of black pepper.  I used multigrain spaghetti (love Barilla Plus), and add chopped baby arugula.  Both of them add nutrition, but also texture, and great flavor.  I actually prefer this dish with the whole grain pasta.  Its nuttiness goes with the cheese and pepper so perfectly.  The whole thing takes 10 minutes, and one pot.  You don't even have to cook the sauce.  It's that easy.
And then you have a big bowl of pasta to bury yourself in.  Warning: it might take even less time to eat than to make.
Multigrain Cacio e Pepe
serves 2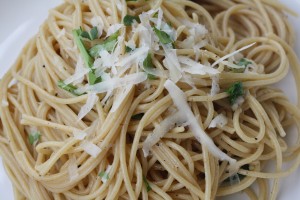 INGREDIENTS


½ pound multigrain spaghetti or linguine


1 cup finely grated Pecorino


2 tablespoons room temperature unsalted butter


1 teaspoon freshly grated black pepper


1 cup baby arugula, roughly copped


2 tablespoons reserved pasta water


PROCEDURE
Bring a large pot of water to boil, and salt the water.  Cook the pasta according to package instructions.
In a large bowl, mash together cheese, butter, and black pepper.  Add the arugula, and the hot pasta and pasta water.  Toss together, and serve.
print this recipe