Get the whole story on The Huffington Post.
I was recently in my favorite restaurant in Paris, when I looked down and  noticed something on the menu that I hadn't before.  Not that it wasn't there; I just hadn't noticed it.  The Tuna Niçoise salad was labeled, "à ma façon," which means, my way.  Tuna salad, my way.  And as it came out again, for the many-eth time, I realized, it was quirky and idiosyncratic and most certainly done to someone's particulars.  In truth, "my way" is a term I've seen quite a few time on French menus, to beg pardon or give warning that something classic might come out slightly artsy—read: better.  Frank Sinatra would be beaming with pride.
This sandwich is Croque Monsieur, my way.  On that same trip, I ordered a croque monsieur just before I left.  It was a far cry from the usual open-faced broiled ham-cheese-and-béchamel that it's "supposed" to be.  Instead, it was two different petite sandwiches, crusts trimmed, the sandwiches cut into dainty tea triangles.  One set was stuffed with Jambon de Bayonne, similar to prosciutto, and Rebluchon cheese, the other with Paris ham and Comté.  So, I can't feel too bad about doing it my, distinctly American way: a grilled cheese sandwich, filled with smoky ham, a Dijon béchamel, a mix of Gruyère and sharp white cheddar, and window-pane slices of crisp apple.  I like it my way.  It's my way or the highway, as I see it.
Apple and Cheddar Croque Monsieurs
makes 2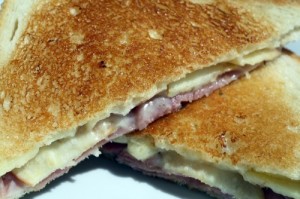 INGREDIENTS


½ tablespoon unsalted butter, plus extra for buttering the bread, room temperature


½ tablespoon all-purpose flour


½ cup milk


1 teaspoon Dijon mustard


Pinch freshly grated nutmeg


1 cup grated sharp white cheddar cheese


1 cup grated Gruyère cheese


4 slices white bread


4 thin slices Black Forest ham


½ Gala apple, thinly sliced


PROCEDURE
In a small saucepot, melt ½ tablespoon butter over medium heat.  Add the flour, and whisk together.  Cook for 1 minute.  Add the milk, and whisk to combine.  Heat for 5 minutes, stirring often, or until the soft coats a spoon.  Add the mustard, and one quarter of the cheddar and Gruyère.  Whisk to melt.
Butter one side of each slice of bread.  Spread the cheese sauce on the other side of each slice of bread.  Divide the cheese between the bread slices, on top of the cheese sauce.  Then, divide the ham and apple between the slices of bread.  Then, sandwich the croque monsieurs together.  Grill the sandwich in a sauté pan over medium heat.  Cook until the bread is golden bread, and the cheese melted.  Flip over, and do the same on the other side.  Serve immediately.
print this recipe