I love New York.  Why go to India when I can eat at Tamarind?  Or to Japan when I can sip udon at Haru?  If I can get better exoticisms so close to home, then it certainly isn't worth the trip to Maine, when the best lobster roll on Earth is just a few blocks away.
I thought that I had tasted the best lobster roll on Earth.  I won't get into it, now that I'm jostling another one ahead, but it was in Paris, and it was stirred up with lime and orange zests, and handed over with a pile of goose-fat fries.  Not too shabby.  Amazing, even.  But my new favorite lobster roll has to be Luke's Lobster, at home in NYC.
It's a traditional top-split hotdog bun, perfectly toasted.  Inside is a thin schmear of mayo.  And that's what I love best—the lobster is not chopped and tossed in a thick, clumpy, creamy salad.  There is that thin, slightly salty, mellowing squidge of mayo, and then whole lobster claws, knuckles, and maybe some tail meat, piled overflowing into the hugging little roll.  Over the top is drizzled a little shower of lemon butter, and a restrained dusting of "secret" seasonings, which I think I've identified as dried powdered oregano and possibly celery salt.  For $17, it comes with a Maine Root soda and Mrs. Vick's chips: may I suggest the blueberry soda (for a real taste of Maine), which is like a rich man's Welch's grape, and the Sea Salt & Vinegar chips, which make a nice bite against all that luscious lobster.  And a half-sour pickle.  Which is the best kind there is.
I seriously love a one-trick pony.  And I'm going to ride this one around as often as I can.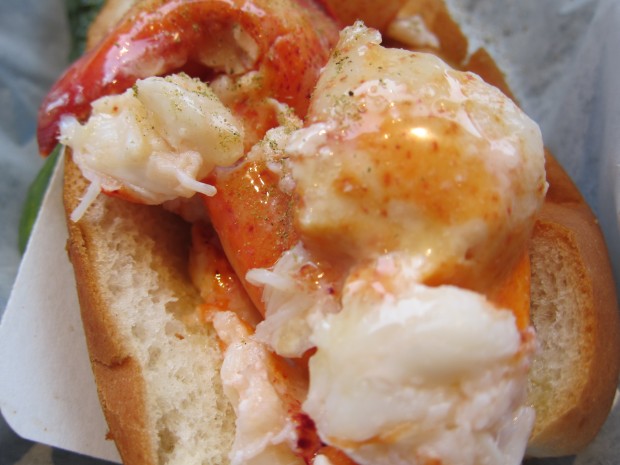 Luke's Lobster
NYC Locations:
93 E. 7th Street 
212.387.8487
242 E. 81st Street 
212.249.4241
26 S. William St, near Broad 
212.747.1700
426 Amsterdam Avenue 
212.877.8800
And there's a truck: http://www.lukeslobster.com/nauti/
DC Location:
624 E. Street NW 
202.347.3355