Looks pretty gourmet, doesn't it?  Thinly pounded, grilled chicken breast topped with an arugula, fennel, and apple salad.  No one would assume you threw it together on a George Foreman.
This is such an easy, healthy dinner.  Chicken paillard, inspired by French bistros, is just a thinly pounded (yes, you get to do the pounding!) chicken breast, lightly seasoned, and grilled in just 4 minutes.  Mound a simple lemony salad on top, and you have the perfect, light dinner.  The apple and fennel are crunchy.  The lemon and olive oil pools down into the chicken.  Guiltless and delicious.
Chicken Paillard Salad with Arugula, Fennel, and Apples
serves 2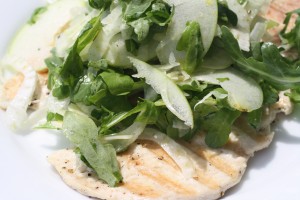 INGREDIENTS


2 ½-pound chicken cutlets, pounded ¼-inch thick


2 tablespoons olive oil, plus 2 teaspoons


Salt and pepper


2 cups baby arugula


½ fennel, very thinly sliced


½ Granny Smith apple, very thinly sliced


Zest and juice of ½ lemon


PROCEDURE
Preheat your countertop grill to the highest setting.  Rub the chicken with the 2 teaspoons olive oil, and season with salt and pepper.  Grill the chicken paillards, one at a time, until cooked through—about 4 minutes.  Toss the arugula, fennel, apple, lemon juice, lemon zest, and 2 tablespoon olive oil with salt and pepper.
Allow the chicken to cool just slightly, then pile the salad on top of the chicken.
print this recipe