I'm back in France, having had to go back to London for a few days for work.  As soon as I landed, I went right back to Fenocchio, and made myself try new flavors, even though I love orange flower and am forever loyal to it.  This time, I had rice pudding ice cream (riz au lait) and pear sorbet.  The sorbet was killer, the ice cream was very good, with real plump grains of rice tucked into the frozen cream.  My dad, in Nice for the first time, had the spekuloos.  Amazing as ever, and of course, I stole half of it.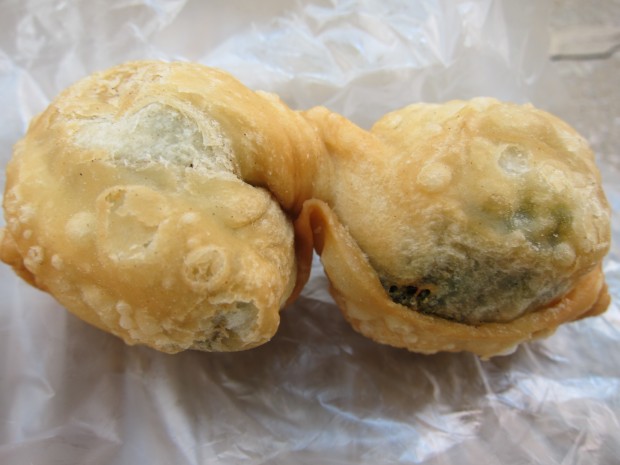 The next morning, we went to the market in Menton, where one woman sets up her shop just outside the market.  She is the patron saint of all sinful, delicious, provençal foods.  She sells beignets and pizza.  Could two words ever fit more beautifully together?  I love her Barba Juan, these round fried balls stuffed with blette, a leafy green found in tarts all over the South of France.  Google Translate tells me it's chard, but it tastes more like dandelion greens.  Just that touch almost sour, and verdant, and good.  And she has giant zucchini flower beignets–the best I've had.  Soft, and almost juicy in an impossible way.  She also sells this Menton-only cheeseless pizza, like a tomato pissaladière, called pichade.  I bought a sweet apple beignet from her too.  I love her!  And that was my breakfast.  When in France…
For a late lunch, I took my father to Monte Carlo, to a famous restaurant called Café de Paris.  I was there when I was fifteen–I was kicked out of the casino for being too young.  So my mom took me there and bought me ratatouille as a consolation.  I never forget that ratatouille, because it was the best of my life.  I find it very difficult to make well, and this one was cut into a million tiny die, like the ones that come with a travel backgammon game.  They don't cut it so petite anymore, but I have to report, that even thought it is incredibly overpriced, it is still the best ratatouille I've ever had.  I followed it with more ice cream–pink grapefruit sorbet.  It's getting to be a habit.
The bouillabaisse I had that night deserves its own post.  I spent the rest of the afternoon sneaking photographs of recipe postcards in a gift shop.  I was desperate!  The perfect soupe au pistou might be my holy grail.